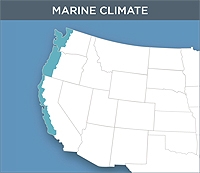 The Department of Energy (DOE) has developed a series of best practices and case studies to help builders improve whole-house energy performance in buildings found in marine climates.
Best Practice Guides
New Construction Case Studies
California
Project: Cottle Zero Net Energy Home - San Jose
Builder: One Sky Homes
Profile: This builder took home the Grand Winner prize in the Custom Builder category in the 2014 Housing Innovation Awards for its high performance building science approach. The builder used insulated concrete form blocks to create the insulated crawlspace foundation for its first DOE Zero Energy Ready Home, the first net zero energy new home certified in the state of California..
Oregon
Project: Hood River Passive House - Hood River
Builder: Root Design Build
Profile: This project uses Passive House Planning Package (PHPP) to meet all of the requirements for certification under the European Passive House standards.
Washington
Project: Cedarwood — Bellingham
Builder: TC Legend Homes
Profile: This house was the Grand Winner in the Affordable Builder category of the 2014 Housing Innovation Awards, and has 6-in. SIP walls, a 10-in. SIP roof, and ICF foundation walls with R-20 high-density rigid EPS foam under the slab.A single ductless heat pump heats and cools the home, which also gets passive solar heating from south-facing triple-pane windows that heat a concrete slab floor plus a connected greenhouse.
Project: Katlenbach Residence — Clinton
Builder: Clifton View Homes
Profile: This home on Whidbey Island won a Custom Builder award in the 2014 Housing Innovation Awards. The DOE Zero Energy Ready Home scores HERS 37 without PV or HERS -13 with 10 kW PV, enough to power the home and an electric car. .
Project: Isler Residence — Coupeville
Builder: Clifton View Homes
Profile: This house features a unique ventilation system that cools the house for pennies a day on the hottest days when combined with SIPs, LEDs, and ENERGY STAR ceiling fans.
Project: Passive House #1 at Columbia Station — Seattle
Builder: Dwell Development, LLC
Profile: This home in a micro-community on gray-field site features an electric car charger, double-stud walls, unvented flat roof, and triple-pane windows to achieve a 5-star Built Green rating and meet the Northwest ENERGY STAR program criteria.
Project: Thomas/Salmon Residence — Seattle
Builder: TC Legend Homes
Profile: This house incorporates slab-on-grade, EPS roof, and radiant heating with an air-to-water heat pump that also preheats domestic hot water.
Washington, Oregon, Idaho
Project: Technology Solutions for New Manufactured Homes - Pacific Northwest States
Builder: Northwest Manufacturing Housing Industry, Building America Partnership for Improved Residential Construction
Profile: The goal of this project was to prototype and assess the performance of cost-effective high performance building assemblies and mechanical systems that are not commonly deployed in the manufacturing setting. The package of measures reduces energy used for space conditioning, water heating and lighting by 50% percent over typical manufactured homes.
Improvements to Existing Homes
Oregon
Project: Deep Energy Retrofit of 1910 House — Portland
Builder: Homeowner
Profile: This home underwent a full deep energy retrofit, including air sealing and insulating exterior walls and attic and installing new, efficient appliances. Researchers from Pacific Northwest National Laboratory audited the home after the retrofits and calculated a HERS score of 68.
Washington
Project: Cascade Apartments - Deep Energy Multifamily Retrofit — Kent
Builder: King County Housing Authority
Profile: This project implemented energy retrofit improvements in the Cascade multifamily community, which resulted in annual energy cost savings of 22%, improved comfort and air quality for residents, and increased durability of the units.
Project: Evaluating Energy Savings in All-Electric Public Housing in the Pacific Northwest - Tacoma
Builder: Tacoma Housing Authority
Profile: This project analyzes the cost effectiveness of energy-saving measures installed by a large public housing authority in Salishan, and evaluates those solutions to improve efficiency of affordable housing for new and existing homes.
You may also find case studies and guides that work across all climates on the All Climates page.
For additional, updated information on hundreds of building science topics that can help you build or retrofit to the most recent high-performance construction criteria, including the latest version of ENERGY STAR and the DOE Challenge Home requirements, see the Building America Solution Center.