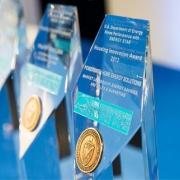 Since 2013, The U.S. Department of Energy's (DOE) Housing Innovation Awards has recognized the very best in innovation on the path to zero energy ready homes.  The Housing Innovation Awards recognize forward-thinking builders for delivering American homebuyers with the home of the future, today. Explore these award winning homes on the Tour of Zero.
The 2016 Housing Innovation Awards ceremony was held September 27th at the EEBA Excellence in Building Conference and Expo in Frisco, TX.  This year's awards included winners from five categories, with a Grand Winner selected in each category by an esteemed panel of judges.  The five award categories were:
In addition to the award, each winning home is recognized with a page on the Tour of Zero and a customized case study included on their partner profile in the Partner Locator section of the Zero Energy Ready Home website.  
Congratulations to our 2016 Housing Innovation Award Winners and Grand Winners!
WINNERS FOR INNOVATION IN AFFORDABLE HOMES   
WINNERS FOR INNOVATION IN MULTIFAMILY HOMES
WINNERS FOR INNOVATION IN PRODUCTION HOMES   
WINNERS FOR INNOVATION IN CUSTOM HOMES (For Buyer)
WINNERS FOR INNOVATION IN CUSTOM HOMES (Spec)
2016 Housing Innovation Award Winners