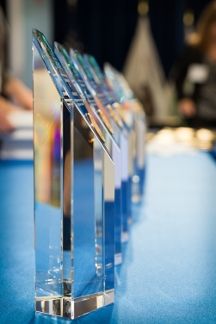 The U.S. Department of Energy's (DOE) Housing Innovation Awards recognize the very best in innovation on the path to zero energy ready homes.
DOE Zero Energy Ready Home (ZERH) Housing Innovation Award Winners are selected for each of four categories: custom, production, multifamily, and affordable homes. One DOE ZERH Grand Housing Innovation Award Winner will be announced from among the winners in each of these categories at the 2015 Housing Innovation Awards Ceremony held on October 6, 2015, at the EEBA Excellence in Building Conference & Expo in Denver, Colorado.
Leading builders who have certified ZERH homes within the last year will not want to miss this opportunity for recognition that also includes complimentary registration to the full EEBA conference, a networking poster session following the ceremony and opportunities to present at the conference education sessions.
Each winner receives a customized case study highlighting their winning home that is featured on this page and in your profile on the DOE Zero Energy Ready Home partner locator.  Plus, winners receive a page featuring their award-winning home on the DOE Tour of Zero, a virtual home tour designed for homebuyers that will launch in June 2015.