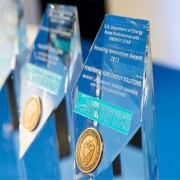 Since 2013, The U.S. Department of Energy's (DOE) Housing Innovation Awards has recognized the very best in innovation on the path to zero energy ready homes.  The Housing Innovation Awards recognize forward-thinking builders for delivering American homebuyers with the home of the future, today. Explore these award winning homes on the Tour of Zero.
The 2016 Housing Innovation Awards will be held September 27-29 at the EEBA Excellence in Building Conference and Expo in Frisco, TX.  This year's awards will be selected from each of five categories, with a Grand Winner being selected in each category. Winners will be selected by our esteemed panel of judges.  This year, the five award categories include:
Custom Buyer: Custom home built for a specific buyer
Custom Spec: Custom home builder on an individual rather than production scale to be sold on speculation rather than pre-ordered by a buyer
Production: Homes intended to be reporduced using standard approaches and plans
Multi-Family: A building with two or more units serving multiple homeowners/ rental groups
Affordable: A home built to an affordable price point
In addition to the award, each winning home will be recognized with a page on the Tour of Zero.  Winners will also receive a customized case study highlighting their award winning home that will be included on their partner profile in the Partner Locator section of the Zero Energy Ready Home website.  Further, each winner will receive a variety of marketing materials, press releases and other promotional items to further recognize their accomplishments.  
Don't miss this opportunity to be recognized as one of the nation's leading builders!  Applications are now open.  The deadline for submitting applications has been extended to June 15th! 
Apply for the Housing Innovation Awards today!
Need help with the application process? Check out our webinar on Successful Strategies for the Housing Innovation Awards!
2015 Housing Innovation Award Winners