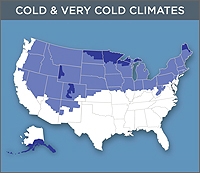 The U.S. Department of Energy (DOE) Building America program has developed a best practice guide and case studies to help builders improve whole-house energy performance in homes found in cold and very cold climates.
Best Practice Guide
New Construction Case Studies
Colorado
Project: The Hale Plan — Denver
Builder: New Town Builders
Profile: All homes in the Stapleton community must be ENERGY STAR certified; New Town Builders has announced that it will build 250–300 new homes over the next 7–10 years, all of which will be Challenge Homes.
Connecticut
Project: Candlewood Hills Rebuild — New Fairfield
Builder: BPC Green Builders
Profile: This LEED Platinum home was built on the site of a 60-year-old bungalow that was demolished. It boasts views of Candlewood Lake, a great deal of daylight, and projected annual energy savings of almost $3,000.
Project: Preferred Builders — Old Greenwich
Builder: Preferred Builders
Profile: The first DOE Challenge Home built in New England features cool-roof shingles, HERS 20–42, and walls densely packed with blown fiberglass.
Project: The Performance House — Old Greenwich
Builder: Preferred Builders
Profile: This case study describes the philosophy and science behind the development of this high-performance test house.
Illinois
Project: Illinois First Challenge Home — Downers Grove
Builder: Weiss Building & Development, LLC
Profile: This single-family home built in a peat bog has underground storage tanks and drainage tanks, blown fiberglass insulation, coated rigid polyisocyanurate, and flashing.
Project: School Street Homes — Libertyville
Builder: StreetScape Development, LLC
Profile: These single-family, HERS 45 homes incorporate 2 × 6 wood framed walls with R-20 open cell spray insulation and OSB.
Project: Chicagoland's First Certified Passive House — River Forest
Builder: Weiss Building & Development, LLC
Profile: This single-family, HERS 27 home incorporates insulated concrete form walls and polyisocyanurate rigid insulation.
Maine
Project: Near Zero Maine II Home — Vassalboro
Builder: Thomas Fullman
Profile: This single-family Challenge Home was built at low cost with a ductless heatpump, ERV, PV on detached garage, solar water heater, double walls, and vapor retarder air barrier.
Massachusetts
Project: MassDevelopment Devens Green Zero-Energy Community Custom Home — Devens
Builder: Transformations, Inc.
Profile: This single-family home features a superinsulated shell with 12-inch double walls filled with open cell spray foam, as well as R-5 triple-pane windows.
Project: MassDevelopment Devens Green Zero-Energy Community Production Home — Devens
Builder: Transformations, Inc.
Profile: New houses in three developments incorporate specific assemblies and specifications to achieve a 44.9% reduction in energy use compared with a home built to the 2009 International Residential Code.
Project: Transformations, Inc. Net Zero Energy Communities — Devens, Easthampton, Townsend
Builder: Transformations, Inc.
Profile: In 2009, Transformations, Inc. partnered with the Building Science Corporation team to build new net zero energy houses in three developments in Massachusetts that achieve a 45% reduction in energy use compared to 2009 International Residential Code.
Project: Cold Climate Market-Rate Townhomes Targeting HERS Index of 40 — Harvard
Builder: Metric Construction
Profile: Twelve townhomes constructed at a decommissioned army base incorporated efficiency upgrades to achieve a HERS Index score of 41 before adding renewables.
Michigan
Project: Affordable Cold Climate Infill Housing with Hybrid Insulation Approach — Wyandotte
Builder: Various local homebuilders
Profile: The City of Wyandotte started a construction program to engage local builders in constructing energy-efficient homes in existing neighborhoods for less than $100/ft2.
New York
Project: Holly Creek Lane — Ithaca
Builder: Ithaca Neighborhood Housing Services
Profile: Eleven new townhomes comply with EPA's airPLUS criteria and use EPA WaterSense-qualifying features. Foundation walls are insulated on the exterior with XPS insulation. Non-shared walls use wall panels that were produced offsite.
Project: Ferguson Design and Construction - Sagaponack 
Builder: Ferguson Design and Construction
Profile: This DOE Challenge Home scored HERS 43 without PV and features R-25 double-stud walls, a hydro air system with 91% efficient boiler for forced air and radiant floor heat, and 100% LED lights.
Rhode Island
Project: Edies Lane House — Exeter
Builder: Caldwell and Johnson
Profile: This house should save its owners $600 per year over the 2009 IECC with the help of efficiency measures such as walls with OSB sheathing and R-13 open cell spray foam insulation.
Utah
Project: Garbett's Net Zero-Energy Home at Rosecrest — Herriman
Builder: Garbett Homes
Profile: As the first net zero-energy production home certified in Utah, this house incorporates two 94% efficient tankless water heaters and two roof-mounted solar panels that preheat the home's water supply.
Improvements to Existing Homes Case Studies
Colorado
Project: Evaluation of a Low-Rise Multifamily Retrofit — Boulder
Building Component: Building envelope, lighting, appliances, water conservation
Profile: A 37-unit apartment complex underwent multiple energy retrofit measures, including attic and wall insulation, low-e windows, and energy-efficient appliances, to comply with the Boulder SmartRegs Ordinance.
Illinois
Project: Evaluation of Missed Energy Saving Opportunity Based on Illinois Home Performance Program Field Data: Homeowner Selected Upgrades vs. Cost-Optimized Solutions - Chicago
Building Component: Envelope
Profile: Partnership for Advanced Residential Retrofit team compared measure packages installed during 800 Illinois Home Performance with ENERGY STAR® residential retrofits to those recommended as cost-optimal by Building Energy Optimization (BEopt) modeling software.
Massachusetts
Project: Multifamily Individual Heating and Ventilation Systems — Lawrence
Builder: Merrimack Valley Habitat for Humanity
Profile: The conversion of an older Massachusetts building into condominiums illustrates a safe, durable, and cost-effective solution for heating and ventilation systems in multifamily buildings.
Project: National Grid Deep Energy Retrofit Pilot - Massachusetts and Rhode Island
Builder: Various
Profile: Building Science Corporation developed a package of high-efficiency measures for retrofit of 42 homes sponsored by National Grid, resulting in energy use of approximately 40% below the Northeast regional average.
New York
Project: Islip Housing Authority Energy Efficiency Turnover Protocols — Islip
Builder: Islip Housing Authority
Profile: In this project,  ARIES worked with two public housing authorities (PHA) to develop packages of energy efficiency retrofit measures the PHAs can cost effectively implement at the time when units are refurbished between occupancies.
Washington
Project: Retrofit of 1915 Home — Dayton
Builder: Homeowner
Profile: In this project, Pacific Northwest National Laboratory audited a historic home for an energy retrofit, leaving the diesel boiler in place, but adding a new SEER 16, HSPF 9.4 ductless heat pump with four inside heads, cutting energy costs more than $2,000/year.
You may also find case studies and guides that work across all climates on the All Climates page.
For additional, updated information on hundreds of building science topics that can help you build or retrofit to the most recent high-performance construction criteria, including the latest version of ENERGY STAR and the DOE Challenge Home requirements, see the Building America Solution Center.