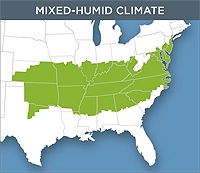 The Department of Energy (DOE) has developed a series of best practices and case studies to help builders improve whole-house energy performance in buildings found in mixed-humid climates.
Best Practice Guides
New Construction Case Studies
Delaware
Project: Hydronic Heating Coil Versus Propane Furnace — Rehoboth Beach
Builder: Insight Homes
Profile: In this project involving two new homes, IBACOS evaluated the performance of the two space conditioning systems and the modeled efficiency of the two tankless domestic hot water systems relative to actual occupant use.
Maryland
Project: Nexus EnergyHomes — Frederick
Builder: Nexus EnergyHomes
Profile: This new duplex home successfully combines affordability with state-of-the-art efficiency and indoor environmental quality, achieving the highest rating possible under the National Green Building Standard.
Project: North Point Lot 5 — Frederick
Builder: Nexus EnergyHomes
Profile: This DOE Challenge Home winner, an urban infill community with 24 duplexes, 19 townhomes, and 7 single-family homes features SIP walls, geothermal heat pumps, solar PV, and a proprietary energy management system.
Project: Winchester Homes and Camberly Homes - Silver Spring
Builder: Winchester Homes and Camberly Homes
Profile: The Partnership for Home Innovation team worked with the builder to develop a new set of high performance home designs—including advanced wall and HVAC systems—that could be applicable on a production scale..
New York
Project: Eco-Friendly Home — Sagaponack
Builder: Ferguson Design and Construction
Profile: This house incorporates double walls with staggered studs, poured-in concrete basement, and double-pane, argon-filled windows.
Improvements to Existing Homes Case Studies
District of Columbia
Project: Sasha Bruce Youthwork Group Home — Washington, D.C.
Building Components: HVAC, air sealing, envelope, windows, lighting, appliances 
Profile: This project marks the first Building America group home retrofit, which achieved 44% energy savings using cost-effective and readily available materials and systems in a very brief timeframe. 
Maryland
Project: Bay Ridge Gardens—Mixed Humid Affordable Multifamily Housing Deep Energy Retrofit — Annapolis
Building Components: Envelope, HVAC, lighting, domestic hot water
Profile: Approximately 43% energy savings are achieved in a 1970s multifamily building through standard, non-invasive retrofit measures.
Pennsylvania
Project: 56th and Walnut: A Gut Philly Rehab
Builder: Columbus Property Management and Development, Inc. (CPM)
Profile: In this project, CPM partnered with the Consortium for Advanced Residential Buildings team to renovate 32 units in 11 three-story, historic, brick masonry urban buildings.
You may also find case studies and guides that work across all climates on the All Climates page.
For additional, updated information on hundreds of building science topics that can help you build or retrofit to the most recent high-performance construction criteria, including the latest version of ENERGY STAR and the DOE Challenge Home requirements, see the Building America Solution Center.