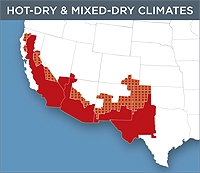 The Department of Energy (DOE) has developed a series of best practices and case studies to help builders improve whole-house energy performance in buildings found in hot-dry and mixed-dry climates.
Best Practice Guides
New Construction Case Studies
Arizona
Project: Gordon Estates — Phoenix
Builder: Mandalay Homes
Profile: Fourteen homes in this subdivision achieved Challenge Home certification with HERS 38–58.
California
Project: Exterior Rigid Foam Insulation at the Edge of a Slab Foundation — Fresno
Builder: Wathen-Castanos Hybrid Homes, Inc.
Profile: The addition of exterior rigid foam insulation at the edge of the slab foundation for a single-family ranch house is estimated to achieve energy savings of 35.5%.
Project: Haciendas at Rancho Santalina, ZeroHouse 2.0 — San Marcos
Builder: KB Home
Profile: Designed to produce as much energy as it uses, the ZeroHouse incorporates a PV system, R-15 fiberglass batts in walls, and slab-on-grade foundation.
New Mexico
Project: Morrison Home — Albuquerque
Builder: Palo Duro Homes, Inc.
Profile: This house uses 2 × 6 wood framing, studs spaced 24 inches apart, and blown-in formadehyde-free insulation.
Improvements to Existing Homes Case Studies
California
Project: Passive Room-to-Room Air Transfer — Fresno
Builder: GreenEarthEquities
Profile: This project describes a strategy for providing conditioned air to bedrooms when the bedroom doors are closed and measured potential thermal discomfort that occupants may experience when this strategy is used.
Project: Inverted Attic Bulkhead for HVAC Ductwork — Roseville
Builder: K. Hovnanian Homes
Profile: This occupied test home received a modified truss system to accommodate ductwork within an inverted insulated bulkhead along the attic floor, which saves energy by placing heating, ventilating, and air-conditioning (HVAC) ductwork within the home's thermal boundary.
You may also find case studies and guides that work across all climates on the All Climates page.
For additional, updated information on hundreds of building science topics that can help you build or retrofit to the most recent high-performance construction criteria, including the latest version of ENERGY STAR and the DOE Challenge Home requirements, see the Building America Solution Center.