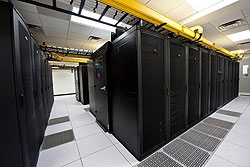 Data centers are one of the most energy-intensive building types, consuming 10 to 50 times the energy per floor space of a typical commercial office building. Collectively, these spaces account for approximately 2% of the total U.S. electricity use, and as our country's use of information technology grows, data center and server energy use is expected to grow too. Fortunately, there are many opportunities to reduce energy use in data centers.
Steps You Can Take To Save Energy
Data Center Research and Development
Learn more about the data center energy efficiency research and development funded by the American Recovery and Reinvestment Act.
Partnerships and Program Information
Find out how DOE works with other federal government agencies and the national laboratories to improve data center energy performance through the National Data Center Energy Efficiency Information Program.
Join the Better Buildings Alliance to learn more about how others are improving the energy efficiency of their data centers and server rooms.
Resources
Data Center Efficiency and IT Equipment Reliability at Wider Operating Temperature and Humidity Ranges