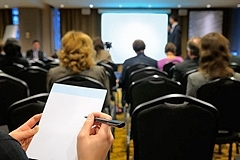 The Department of Energy's (DOE) Building America program hosts open meetings and webinars for industry partners and stakeholders that provide a forum to exchange information about various aspects of residential building research.
There are no Building America meetings scheduled at this time. Please subscribe to Building America news and updates to receive notification of future meetings.
The Building America program continues its webinar series into 2015! Each month's free webinar will offer information about the latest advances in residential building technologies and practices, presented by Building America research team experts.
High-Performance Enclosure Strategies, Part I: Unvented Roof Systems and Innovative Advanced Framing Strategies
Date/Time:  February 12, 2015; 3:00-4:30 PM EST
Description: Join us for a free webinar that will focus on methods to design and build roof and wall systems for high performance homes that optimize energy and moisture performance. Presenters and specific topics for this webinar include:
• Joe Lstiburek, Building Science Corporation, presenting Advances in Unvented Roof Technology. It has become clear that unvented roofs must be conditioned in most climates or some other means of moisture removal is necessary for the attic space. This presentation will discuss several of these approaches, including the use of diffusion venting and dehumidification. These approaches will allow the use of cellulose and fiberglass insulation systems rather than the current approaches that rely on rigid insulation or spray polyurethane foams.
• Vladimir Kochkin, Home Innovation Research Labs, presenting Builder's Guide to High Performance Walls in Climate Zone 3-5. Strategies to design and build high performance walls can vary significantly by climate zone, and this discussion will focus on approaches for climate zones 3-5 that increase energy performance and reduce moisture issues in walls. The presentation is based on the Builder's Guide to High Performance Walls, which will be published in 2015.
View other past webinars focused on residential energy efficiency on the webinar archives page.
Building America hosts several expert meetings each year on a variety of building energy efficiency topics, which are presented by research team members. This page provides links to past expert meetings proceedings, including presentations and related documents.
Keep current with upcoming events and news by subscribing to Building America updates.