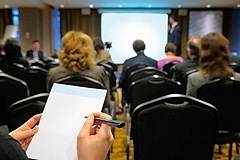 The Department of Energy's (DOE) Building America program hosts open meetings and webinars for industry partners and stakeholders that provide a forum to exchange information about various aspects of residential building research.
The Building America program continues its webinar series into 2016! Each free webinar will offer information about the latest advances in residential building technologies and practices, presented by Building America research team and national laboratory experts.
Building America Research: Part 1 - Update and Outlook
Time: Aug. 10, 2016, 3 p.m. ET
This webinar will cover progress toward achieving goals outlined in the Building America Research-to-Market Plan and associated Technology-to-Market Roadmaps, provide a detailed discussion of current research projects funded by Building America and how they connect to the Plan and Roadmaps. The webinar will also discuss upcoming market research needs (i.e., remaining gaps identified in the Plan and Roadmaps).
Building America Research: Part 2 - What Makes a Successful Project?
Time: Aug. 17, 2016, 3 p.m. ET
This webinar will highlight the Building America FOA process, and highlight currently funded projects that make good business sense as DOE Building America investments. The webinar will show direct connections between selected projects and the Building America Research-to-Market Plan and Technology-to-Market Roadmaps as well as highlight sound research questions, success metrics, and market transformation plans.
View other past webinars focused on residential energy efficiency on the webinar archives page.
There are no Building America meetings scheduled at this time. Please subscribe to Building America news and updates to receive notification of future meetings.
Building America hosts several expert meetings each year on a variety of building energy efficiency topics, which are presented by research team members. This page provides links to past expert meetings proceedings, including presentations and related documents.
Keep current with upcoming events and news by subscribing to Building America updates.