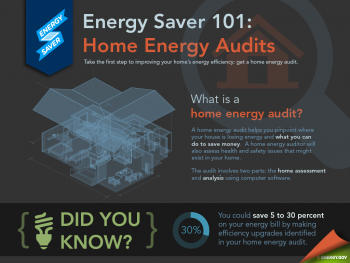 A home energy audit is the first step to saving energy and money. Our Energy Saver 101 infographic breaks down a home energy audit, explaining what energy auditors look for and the special tools they use to determine where a home is wasting energy. Explore the full infographic now.
From air sealing to improving ventilation to adding insulation, home weatherization helps consumers save money by saving energy. Weatherization is also a growing industry in the clean energy economy, creating jobs for home energy auditors and residential contractors.
The Energy Department provides funding, technical assistance and online tools to local governments for their programs that save families hundreds of dollars on their energy bills. Through the Energy Saver site, the Department educates consumers about simple, practical actions that both homeowners and renters can take to lower their energy costs. 
Featured
Resolve to Save Energy This Year
Instead of making a New Year's resolution, this year make a home energy efficiency resolution. For the second year in a row, we are sharing our top 8 tips to save energy and money at home.
Professional Home Energy Audits
A home energy audit is the first step to assessing how much energy your home consumes and to deciding what measures you can take to make your home more energy efficient.