See how LPO's portfolio is powering American homes with clean energy, manufacturing fuel-efficient light-duty vehicles, creating good jobs, and preventing carbon dioxide emissions.
RECENT PUBLICATIONS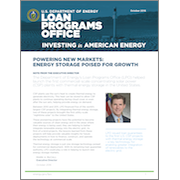 Powering New Markets: Energy Storage Poised for Growth
Between 2010 and 2011, LPO financed five of the world's largest concentrating solar power (CSP) projects. By integrating thermal energy storage, two of these projects brought the first utility-scale "nighttime solar" to the U.S.  The lessons learned from these projects will help provide valuable insights in how to finance, construct, and operate the technology at commercial scale. See the full report here.
With $8 billion in loans and commitments to projects that have supported the production of more than 4 million fuel-effi­cient cars and more than 35,000 direct jobs across eight states, LPO's Advanced Technology Vehicles Manufacturing (ATVM) loan program has played a key role in helping the American auto industry propel the resurgence of manufacturing in the United States.  Read the
full report here.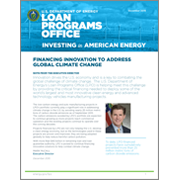 Financing Innovation to Address Climate Change Report 
LPO is helping address the global challenge of climate change by providing critical financing needed to deploy some of the world's largest and most innovative clean energy and advanced technology vehicles manufacturing projects, preventing more than 25 million metric tons of CO2 emissions to date.  Read more on Executive Director Mark McCall's blog post and see the full report here.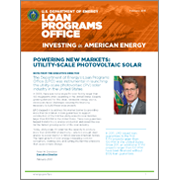 Utility-Scale Photovoltaic Solar Markets Report
In 2011, LPO issued loan guarantees to the first 5 PV projects larger than 100 MW in the United States.  Since 2011, an additional 17 PV projects larger than 100 MW have been financed without DOE loan guarantees.  Read more on Executive Director Peter Davidson's blog post or see the full report here.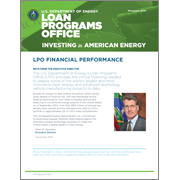 LPO Loan Portfolio Financial Performance Report
As of September 2014, more than $810 million of interest has been earned and losses on the portfolio represent approximately 2% of LPO's total loan and loan guarantee commitments. For more information on LPO's financial performance, see Executive Director Peter Davidson's blog post or read the full report here.
News
October 14, 2016

DOE Loan Program Releases Updated Analysis at Mesquite Solar 3 Dedication Ceremony Showing Five DOE Loans Have Led to an Additional 45 Large Solar PV Projects Established by Industry

July 21, 2016

Administration announces new actions geared towards accelerating the deployment of electric vehicle charging infrastructure and putting more electric vehicles on the road.

June 2, 2016

21 governments and European Union announce efforts to double clean energy R&D investments over five years to $30 billion per year.

January 21, 2016

Secretary Moniz Continues Obama Administration Commitment to American Auto Industry, Releases Advanced Technology Vehicles Manufacturing Report on DOE Successes

August 24, 2015

LPO and ARPA-E Initiatives Support America's Growing Low-Carbon Economy and Combat Climate Change

June 24, 2015

To further support the construction of two advanced nuclear reactors at the Alvin W. Vogtle Electric Generating Plant, the Department of Energy announced today it will issue $1.8 billion in loan guarantees to three subsidiaries of the Municipal Electric Authority of Georgia (MEAG Power).

March 26, 2015

As part of the Administration's effort to support advanced vehicles that are more affordable for Americans to drive, strengthen U.S. leadership in manufacturing advanced vehicle technologies, and reduce greenhouse gas emissions through increased fuel efficiency, the Department of Energy announced a conditional commitment for a $259 million loan to Alcoa Inc. today.

December 10, 2014

WASHINGTON D.C. — Today, the Department of Energy issued the Advanced Nuclear Energy Projects loan guarantee solicitation, which provides as much as $12.5 billion to support innovative nuclear energy projects as a part of the Administration's all-of-the-above energy strategy.
More