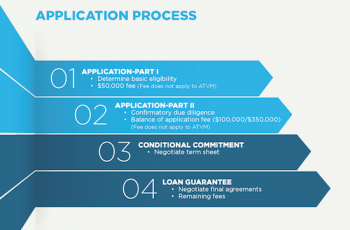 LPO APPLICATION PROCESS
LPO has more than $40 billion in remaining loan and loan guarantee authority and is accepting applications under its two loan programs – the Innovative Clean Energy Projects (Title XVII) loan program  and the Advanced Technology Vehicles Manufacturing (ATVM) loan program. 
Prospective applicants may use the LPO Online Application Portal to apply to both loan programs.  Each loan program, however, has its own distinct application process, eligibility criteria, and fees.
The Title XVII loan program accepts applications for loan guarantees in response to open technology-specific solicitations.  Eligible projects must utilize a new or significantly improved technology, avoid, reduce, or sequester greenhouse gases, be located in the United States, and have a reasonable prospect of repayment. 
Please visit the Title XVII application process page  to learn more about the competitive two-part application process, eligibility requirements, and fees.
The ATVM loan program is currently accepting applications for direct loans to automotive or component manufacturers for reequipping, expanding, or establishing manufacturing facilities in the United States that produce fuel-efficient advanced technology vehicles (ATVs) or qualifying components or for engineering integration performed in the United States for ATVs or qualifying components. 
Prospective applicants are encouraged to review the ATVM application process  - including eligibility requirements and fees - before applying.
Basic eligibility is the first step in the LPO application process.  LPO conducts due diligence and underwrites loan guarantees and loans similar to a commercial lender.
Those who are currently ineligible for a Title XVII loan guarantee or an ATVM direct loan are encouraged to visit the Department of Energy's Funding & Financing page to learn about other types of financing available to support your clean energy project.