On May 8 and 9, a joint federal agency collaboration was held to discuss financial and technical assistance to Wind River Tribes in Riverton, Wyoming. Requested by staff from the U.S. Department of Energy (DOE) Office of Legacy Management (LM), the meeting was held at the U.S. Environmental Protection Agency (EPA), Region 8 offices in Denver, Colorado. Other federal agencies represented were the Bureau of Indian Affairs, U.S. Department of Agriculture, and U.S. Geological Survey. Tribal representatives from the Northern Arapaho Business Council (NABC), the Joint Business Council (JBC), and the Wind River Environmental Quality Commission (WREQC) also participated in the meeting.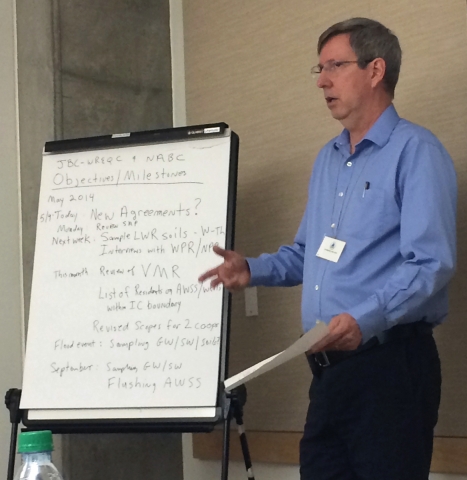 LM Site Manager, Bill Dam, presenting objectives and milestones.
The former processing site in Riverton is a Uranium Mill Tailings Radiation Control Act (UMTRCA) Title I site, licensed to LM for long-term surveillance and maintenance. The site is within the boundaries of the Wind River Indian Reservation shared by the Northern Arapaho and Eastern Shoshone Tribes. Each tribe has its own six-member, elected Council, and together, the twelve members comprise the JBC, which is tasked with the day to day activities of jointly owned resources and joint programs of the Tribes.
DOE currently has two cooperative agreements with the Wind River Tribes. A 5-year cooperative agreement with NABC provides potable water to the community via the Alternative Water Supply System (AWSS). The JBC–DOE cooperative agreement administered by WREQC provides oversight and outreach support.
Multiple federal agencies support the Wind River Tribes. In 2012, total federal expenditures for the joint programs exceeded $21 million. Personnel and equipment supplied by the supporting agencies are shared by the Tribes for administration of federal, and other, programs. The percent of resources used by each program must be accounted for by the recipients.
Matt Parker, DOE Office of Management (MA) Contracting Officer and Darryl Groves, MA Contract Specialist, provided an overview of the process and document requirements for cooperative agreements. Bill Dam, LM Riverton Site Manager, talked about DOE's requirements for financial assistance, including technical evaluation of cost proposals.
An overview of federal funding standards that are common to all was delivered by Paul Felz, EPA Audit Coordinator, who also introduced the Cooperative Audit Resolution and Oversight Initiative (CAROI) document. CAROI was created to provide guidance and resolve audit findings of oversight issues through open dialogue, and to assist with the early detection of potential issues. The goal is to encourage communication and foster collaboration among all levels of government, allowing agencies to accept alternative documentation to support cost questions, while ensuring no harm to government interests.
Changes to federal cost standards under Title 2 Code of Federal Regulations Part 200—which were intended to reduce administrative burden, waste, fraud, and abuse—were discussed. The new rules and procedures provide for more straightforward internal controls.
To assist with our common goals, a dynamic web tool, MAX Information System, was introduced. MAX can be used by the Tribes to share and receive information with federal agencies. Administered by the U.S. Office of Management and Budget (OMB), MAX supports communication and collaboration between federal agencies and funding recipients. In addition to functions that help to meet documentation requirements for audits, MAX capabilities can be used for work plans and to streamline multiple technical projects at a site. Key benefits of the tool are transparency and early detection of issues before an audit is required.
LM is in the process of building pages within MAX and plans on using it to collaborate with other agencies. However, it was emphasized that MAX will not be required. JBC agreed to use the MAX Information System.
Representatives of each federal agency explained their respective agency's relationship with the Wind River Tribes and gave a status of their current projects. Some of the initial outcomes include:
DOE efforts to provide contract administration guidance to the tribes; and
Changes to the payment process and payment system to improve adherence to financial assistance regulations.
Federal agencies will make every effort to be consistent and, where possible, consolidate application forms and other award documents. It was specified that recipients of federal funding are responsible for timely submission of documentation throughout the award cycle, and continuation awards are to be reviewed annually.
The meeting was a successful beginning to interaction among several federal agencies working on the Wind River Indian Reservation, for sharing requirements and processes that will facilitate awareness and avoid duplicative efforts. Advanced computer technology and future meetings at various venues will continue to strengthen partnerships.

EPA Audit Coordinator, Paul Felz, speaking about changes to federal cost standards.