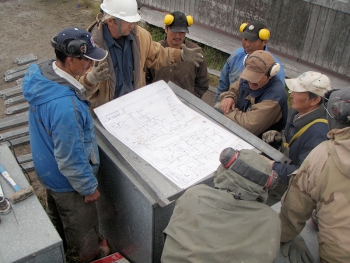 CWG community members review structural plans as part of their wind turbine training in Kwigillingok, AK. Photo from Intelligent Energy Systems, NREL 29205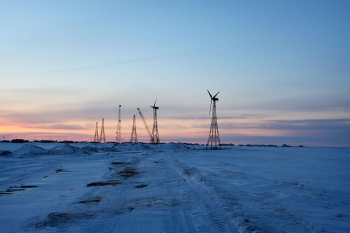 Wind turbines installed in Kwigillingok, Alaska, as part of the Chaninik Wind Group Multi-Village Wind Heat Smart Grid Project. Photo from Intelligent Energy Systems, NREL 29204
The Chaninik Wind Group Multi-Village Wind Heat Smart Grid Project has helped our communities of Tuntutuliak, Kongiganak, and Kwigillingok by reducing fossil fuel use at the power generation plant and homes where home heaters were installed.
—William Igkurak, President and Founder, Chaninik Wind Group
Challenge: Located within a 50-mile radius of each other on the Kuskokwim River Delta in southwest Alaska, the Native villages of Kipnuk, Kongiganak, Kwigillingok, and Tuntutuliak are not connected by road or electrical intertie, but they are similar in size, resources, and cultural heritage. Their total combined population is fewer than 2,000. With roughly 29% of village residents living below the poverty level and unemployment approaching 50%, these communities struggle greatly under the burden of exceedingly high energy costs—$0.65/kWh for electricity and up to $9/ gallon for oil used to heat homes. Formed in 2005 by local electrical utility boards and village managers, the Chaninik Wind Group (CWG) set out to stabilize these remote villages' energy costs by harnessing local wind resources.
Solution: Between 2010 and 2013, CWG implemented a multi-village wind heat smart grid in the villages of Kongiganak, Kwigillingok, and Tuntutuliak, integrating heating systems and a grid installed with partial funding through the DOE Tribal Energy Program with the five existing 95-kW wind turbines CWG had installed in each community. Each of these wind-diesel systems produces wind capacity in excess of 200% of the peak load and uses an on-site wind-diesel smart grid control system to maximize efficiency. Heat recovery boilers help manage system energy balance, and diesel generators provide energy support. Light winds displace diesel fuel used to generate electricity at the diesel power plant. Modest-to-high winds produce excess wind energy that is captured in electric thermal storage units to heat tribal resident homes at 50% of their previous heating fuel cost. In Kipnuk, a larger version of these systems is under development; the metering system is in place and construction is scheduled for completion in 2016.
For more news on actions to accelerate energy development and address climate change in Indian Country, read the full Spring/Summer 2014 issue of the DOE Office of Indian Energy newsletter, Indian Energy Beat.