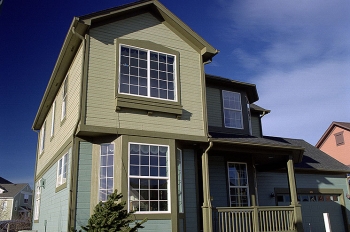 When considering a new home, keep energy efficiency in mind. | Photo courtesy of Warren Gretz, NREL 08742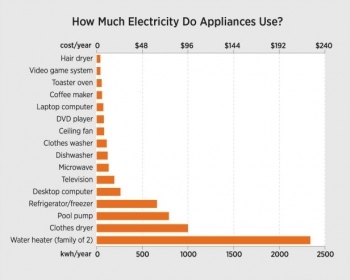 This chart shows how much energy a typical appliance uses per year and its corresponding cost based on national averages. For example, a refrigerator uses almost five times the electricity the average television uses.
If you're concerned about energy bills, energy efficiency is one important aspect to consider when buying a new home. Without energy-efficient appliances, effective insulation, solid roofing, and other efficient elements, your new residence could be a never-ending money pit, no matter the season.
Below we have put together a list of some of the most important energy efficiency aspects to look for when considering new real estate.
APPLIANCES
Appliances are the livelihood of a new home. For the best value, the motto holds true: the newer the better.  We highly recommend that you find a home with ENERGY STAR-labeled appliances. Compared to standard models, ENERGY STAR-qualified refrigerators use 20% less energy and ENERGY STAR-qualified dishwashers use 10% less energy and 18% less water.
Also, keep in mind that water heaters are some of the most costly electricity consuming appliances, as shown in the chart above. Make it a practice to look for the label and your choice of residence could save you significant money over the lifetime of your household appliances. See more tips for energy-efficient appliances, and learn how you can estimate the energy use of appliances.
WINDOWS
When scouting a new home, windows are important to keep in mind because they can account for 10%-25% of your heating and cooling bills. Daylight and views aside, ventilation and heat from the sun can make a significant impact on your home's energy efficiency. If your windows are letting in too much hot air, your central air conditioner is going to work much harder to cool your home in the summer. 
To reduce this issue, keep a look out for double-paned storm windows with "low-e" coatings, which can reduce heat loss through windows by 25%-50%. Weatherstripping is also important for sealing your home's climate.
An important measurement to keep in mind is a window's U-factor, which is an insulation measurement for windows.  A U-factor is the rate at which a window, door, or skylight conducts non-solar heat flow. A low U-factor is better for insulation in colder climates. See more tips for energy-efficient windows.
INSULATION
Properly installed insulation in walls, floors, and attics keeps your home comfortable in any season.  The first thing we recommend is to simply do your research. To find personalized recommendations, you can use the ZIP-Code Insulation Program to find the best insulation level for your new home. Alternatively, you can use the U.S. Department of Energy's R-Value Recommendations Calculator to find out how much insulation is needed in your area. 
R-Value is the thermal resistance measurement used for insulation, indicating its resistance to heat flow. Be sure to check the insulation levels in any home you are considering.
INSPECTION AND TESTING
A third-party inspection of a home provides all of the data you need on a residence's energy efficiency and whether it's up to building code. Ideally, you'll want to look for a certified ENERGY STAR home. These homes have been independently inspected by professional Home Energy Raters during and after construction to make sure they meet EPA's ENERGY STAR energy efficiency requirements. The rating takes into account all of the energy efficiency tips above and more. Learn more about independent inspection and testing.
Even if you aren't purchasing an ENERGY STAR home, be sure to ask the realtor if there's been a home energy audit or home energy score given to the structure. Home performance evaluations will tell you everything you need to know about how energy efficient a home is. This information will include air leak information, insulation, and window grades, as well as recommendations for making the home more efficient.