The U.S. Department of Energy (DOE) manages the largest groundwater and soil remediation effort in the world.  The inventory at the DOE sites includes 6.5 trillion liters of contaminated groundwater, an amount equal to about four times the daily U.S. water consumption, and 40 million cubic meters of soil and debris contaminated with radionuclides, metals, and organics.  The Office of Groundwater and Soil Remediation is working with DOE site managers around the country regarding specific technical issues. At the large sites such as Hanford, Savannah River, and Oak Ridge, the Office of Groundwater and Soil Remediation has conducted research and demonstration projects to test new technologies and remediation approaches.  The office currently focuses on applied field research Initiatives.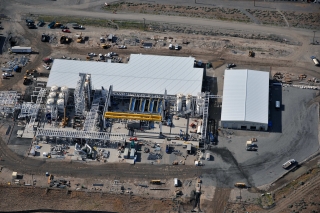 The complexity of the groundwater and soil remediation effort requires a multi-faceted Applied Research & Technology Development program.  The program consists of multiple initiatives and field sites for applied research; each research initiative engages with others to provide holistic solutions based on scientific understanding of the subsurface environment.  Soil and groundwater remediation work is being completed through four applied programmatic areas: the Deep Vadose Zone Applied Field Research Initiative (DVZ-AFRI), Attenuation Based Remedies Applied Field Research Initiative (ABRS-AFRI), Remediation of Mercury and Industrial Contaminants Applied Field Research Initiative (RoMIC-AFRI), and Advanced Simulation Capability for Environmental Management (ASCEM).   The technical assistance program within the Office of Soil and Groundwater Remediation consistently and successfully provides technical resources to solve urgent, challenging environmental problems.
In the area of soil and groundwater remediation, there are two initiatives designed to take a comprehensive view of the critical problems and address these problems under a single vision.  They include the Closure End States for Facilities, Waste Sites, and Subsurface Contamination and the Remediation, Treatment, and Closure of Mercury Contaminated Waste Sites, Water, and Facility Debris to Enable Future Department Missions.