This is an excerpt from the Second Quarter 2011 edition of the Wind Program R&D Newsletter.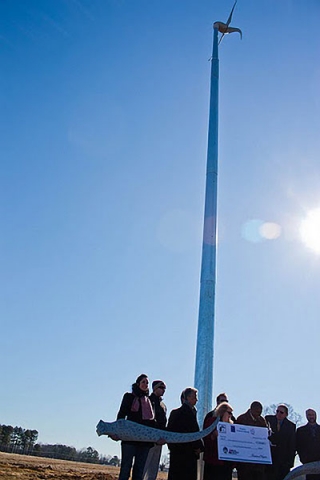 WINDExchange's Virginia Wind for Schools team welcomed Virginia's first educational turbine at Northumberland Middle/High School, in Heathsville, Virginia, on February 11, 2011. The 3.7-kilowatt Skystream turbine manufactured by Southwest Windpower will be utilized as an educational tool in the classroom, giving the students the opportunity to learn through hands-on and interactive curricula that bring science, math, and engineering skills directly to them in a "real world" application.
Remy Luerssen, director of education and outreach for the Virginia Center for Wind Energy at James Madison University and state facilitator for the Virginia Wind for Schools project, says that the turbine is an important step for wind energy in Virginia, a state with no utility-scale wind plants. Besides its role in classroom education, the turbine will serve as a tool to raise awareness in the surrounding community.
"This first turbine, being right there on the coast, is significant because there will be a lot more wind development happening offshore. Getting these coastal communities on board and understanding what wind energy means, I think is a really big hurdle, and I think this gets us one step closer," Luerssen said.
Students and faculty across the country embraced DOE's wind technology programs and curricula in 2010, marking the most successful year so far for the Wind for Schools Project. Wind for Schools projects are currently supported in 11 states (AK, AZ, CO, ID, KS, MT, NC, NE, PA, SD, VA). At the end of 2010, 17 systems had been installed at host schools and more than 60 university students had been involved in Wind Application Center activities. WINDExchange compiles a list of known School Wind Projects.
WINDExchange and DOE's National Renewable Energy Laboratory (NREL) began the Wind for Schools Project in 2005 by conducting a pilot project in Colorado that resulted in one small wind turbine installed in Walsenburg, wind energy curriculum development, and a great deal of enthusiasm for the Wind for Schools project's potential. The Wind for Schools project works to replicate the process piloted in Walsenburg by installing many more small wind turbines, engaging local citizens in a wind energy discussion, and developing a knowledge base for wind energy within schools.
WINDExchange is an outreach and education initiative of DOE's Wind Program that is committed to increasing the use of wind energy. Increasing the use of wind energy will help our nation meet the growing demand for clean sources of electricity and establish new sources of income for American farmers, Native Americans, and other rural landowners. Read more Wind for Schools success stories on the WINDExchange website here.