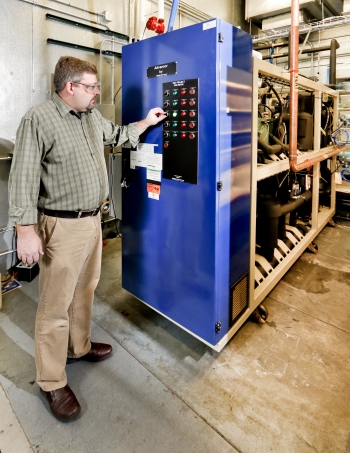 Oak Ridge National Laboratory's (ORNL's) Brian Fricke tests Hillphoenix's Advansor Refrigeration System in ORNL's state-of-the-art Building Technologies Research & Integration Center (BTRIC) user facility; Photo Credit: Oak Ridge National Lab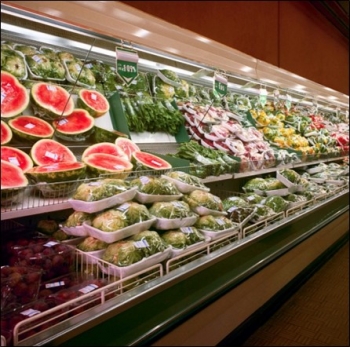 Hillphoenix's advanced refrigeration technology has now been installed in over 75 stores nationwide, helping those businesses cut their utility bills and lower their greenhouse gas emissions. Photo Credit: Oak Ridge National Lab
Traditional supermarket refrigeration systems found in most U.S. grocery stores require a substantial amount of energy to keep fruits and vegetables fresh year round. An average supermarket consumes nearly 2 million kilowatt hours per year, and refrigeration accounts for nearly half of that. They are also prone to significant refrigerant leakage—from two to four thousand pounds a year—emitting environmentally harmful greenhouse gases into the atmosphere. The most common of these gases are hydrofluorocarbons (HFCs), which are 4,000 times more potent than carbon dioxide. 
Oak Ridge National Laboratory (ORNL) and leading refrigeration systems manufacturer Hillphoenix worked together to develop a supermarket refrigeration system that is more environmentally friendly, more energy efficient, and uses less electrical energy. The Second Nature® Advansor System, which hit the market in 2014, reduces greenhouse gas emissions by 78% compared to existing systems and lowers energy consumption by 25%.
ORNL and Hillphoenix, found solutions to both challenges—the refrigerant leakage and high-global warming potential refrigerants—by using CO2 as the refrigerant and confining it to the refrigeration cycle via a transcritical booster system. Perhaps surprisingly, CO2 is significantly better for the environment than HFCs—and by confining it to the refrigeration cycle, that means you've pulled it out of the atmosphere, and it's not contributing to global warming as a greenhouse gas.
Key to getting the product on the market, though, was the reduction in energy use, which translates to lower utility bills for grocery stores. This combination of lower greenhouse gas emissions and greater energy efficiency has made the Second Nature Advansor System an attractive replacement for older refrigeration systems. As of July 2015, the refrigeration system has already been installed in 75 locations across the United States, after less than a year on the market.
The Building Technologies Office leads a vast network of research and industry partners to continually develop innovative, cost-effective energy saving solutions—better products, better new homes, better ways to improve older homes, and better buildings in which we work, shop, and lead our everyday lives.
The Office of Energy Efficiency and Renewable Energy (EERE) success stories highlight the positive impact of its work with businesses, industry partners, universities, research labs, and other entities.