The Building Technologies Office (BTO) monitored hospitals to help facility and energy managers identify ways to save energy. Hospital professionals find it challenging to identify "energy hogs" in their buildings because the industry lacks actual energy use data for mechanical systems and devices. Professionals have asked for real-world information to identify cost-effective energy saving opportunities. This research ultimately helps hospitals improve energy efficiency, freeing up funding to improve healthcare services.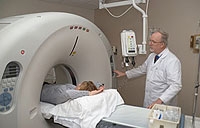 Energy Saving Guidance
BTO monitored three hospitals to collect data on the energy used by total reheat, fans, large hard-wired medical equipment, space lighting, pumps, heating, humidifiers, cooling, dehumidification, service water heating, and miscellaneous plug loads. 
Members of the Hospital Energy Alliance represent more than 500 million square feet of hospital space–and facility managers throughout the industry will use these results to identify cost-effective energy saving opportunities.
Complementary Studies
This project complements the University of Washington's hospital end use energy study  and Lawrence Berkeley National Laboratory's (LBNL) hospital benchmarking study. LBNL is developing detailed guidance for collecting, processing, and analyzing energy end use data in hospitals. The goal is to use the data to calculate baseline metrics and normalize the metrics based on weather variations, hospital size, and hospital activity. The metrics for individual hospitals can then be compared to health system portfolios and peer facilities using the real-world data collected by NREL and the University of Washington as well as tools such as EnergyIQ.
Hospital Monitoring Projects
The U.S. Department of Energy committed $750,000 of American Recovery and Reinvestment Act funds to this project. NREL, the laboratory overseeing this research, competitively selected the following three hospitals to monitor for one year.
Advocate Condell Medical Center

Advocate Condell Medical Center (ACMC) is a 600,000-square foot, 283-bed multidisciplinary hospital. Serving the northern Chicago suburban area since 1928, it is the largest healthcare provider in Lake County. ACMC has more than 2,400 employees and provides services in fields such as obstetrics, emergency care, radiology, cardiology, neurosurgery, gastroenterology, oncology, and rehabilitation.
State University of New York, Upstate Medical University, East Wing/Concentrated Care Center

The East Wing, also known as the Concentrated Care Center, is a seven-story addition to the State University of New York (SUNY) Upstate Medical University Hospital. Opened in 1995, the building covers approximately 143,000 square feet and includes the Department of Emergency Medicine, a diagnostic imaging center with three CT scanners and two MRI scanners, an endoscopy department, and a pharmacy with preparatory laboratories. There are also 58 single-patient intensive care rooms that include 14 infectious isolation rooms and two protective environment rooms.
The Gray Building, Massachusetts General Hospital

The Gray Building is an inpatient facility on the Massachusetts General Hospital campus. It has 16 floors above ground, a basement, and a subbasement for a total floor area of 332,664 square feet. It was built in 1966, and has been renovated substantially over the years. The Gray Building includes exam rooms, treatment rooms, procedure rooms, operating rooms, patient rooms, a research laboratory, mechanical and electrical spaces, horizontal and vertical transportation spaces (corridors, elevators, and stairs), and office, storage, and common areas.
For more information, contact Michael Sheppy.