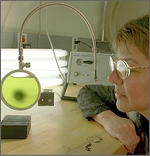 Hydrogen can be produced using diverse, domestic resources including fossil fuels, such as natural gas and coal (with carbon sequestration); nuclear; biomass; and other renewable energy technologies, such as wind, solar, geothermal, and hydro-electric power.
The overall challenge to hydrogen production is cost reduction. For cost-competitive transportation, a key driver for energy independence, hydrogen must be comparable to conventional fuels and technologies on a per-mile basis in order to succeed in the commercial marketplace. Learn more about DOE's hydrogen cost goal and the analysis used in projecting the future cost of hydrogen.
The U.S. Department of Energy supports the research and development of a wide range of technologies to produce hydrogen economically and in environmentally friendly ways.
H2FIRST Project
On April 30, 2014, the Energy Department announced the launch of a new project leveraging the capabilities of its National Laboratories in direct support of H2USA. The project is led by the National Renewable Energy Laboratory (NREL) and Sandia National Laboratories (SNL) and will tackle the technical challenges related to hydrogen fueling infrastructure. The Hydrogen Fueling Infrastructure Research and Station Technology (H2FIRST) project is designed to reduce the cost and time of fueling station construction, increase station availability, and improve reliability by creating opportunities for industry partners to pool knowledge and resources to overcome hurdles. The project was established by FCTO, drawing on existing and emerging core capabilities at the national labs.