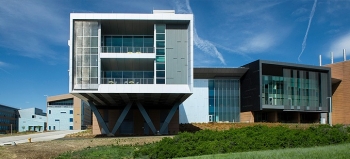 EERE leads a robust network of researchers and other partners to continually develop cost-effective energy-saving solutions that help make our country run better through increased efficiency — promoting better plants, manufacturing processes, and products; more efficient new homes and improved older homes; and other solutions to enhance the buildings in which we work, shop, and lead our everyday lives.
The U.S. Department of Energy (DOE) advances building energy performance through the development and promotion of efficient, affordable, and high impact technologies, systems, and practices. The long-term goal of the Building Technologies Office is to reduce energy use by 50%, compared to a 2010 baseline. To secure these savings, research, development, demonstration, and deployment of next-generation building technologies are needed to advance building systems and components that are cost-competitive in the market. DOE develops, demonstrates, and deploys a suite of cost‐effective technologies, tools, solutions, best practices, and case studies to support energy efficiency improvements in commercial buildings. DOE also spearheads the Better Buildings Challenge, a public-private partnership committed to a 20% reduction in commercial building energy use by 2020.
The Building Technologies Office leads a network of research and industry partners to continually develop innovative, cost-effective energy-saving solutions for homes and buildings.
EERE'S WORK IN BUILDING TECHNOLOGIES
Commercial Building Efficiency
Developing energy-saving and cost-effective solutions for commercial buildings
Emerging Technologies
Research and development of technologies designed to reduce energy consumption and energy waste in commercial and residential buildings
LEDs and Solid-State Lighting
Advancing solid-state lighting (SSL) technology through research, development, demonstration, and commercial application activities
Better Buildings Alliance
Bringing together members from different market sectors to work with DOE's research and technical experts to develop and deploy innovative, cost-effective, energy-saving solutions that lead to better technologies, more profitable businesses, and better buildings