Watch this video to learn more about the Race to Zero Student Design Competition.
Welcome to the Race to Zero!
This is an exciting time – a time when Zero Energy Ready Homes have become readily achievable and cost effective. By definition, these high-performance homes are so energy efficient that renewable power can offset most or all the annual energy consumption.
The U.S. Department of Energy (DOE) Race to Zero Student Design Competition (Race to Zero) inspires collegiate students to become the next generation of building science professionals through a design challenge for zero energy ready homes.
Students become part of a new leadership movement to achieve truly sustainable homes.
As part of DOE's Building America and Zero Energy Ready Home programs, the Race to Zero was designed to:
Inspire and develop the next generation of building science professionals.
Advance and enhance building science curriculum in universities. 
2016 Invited Collegiate Teams
Registration for the 2016 competition closed on November 12, 2015, and DOE is excited to announce that 34 teams from 27 collegiate institutions have been invited to compete. Eight institutions have more than one team registered.
Appalachian State University
Carnegie Mellon University
Georgia Institute of Technology
Humboldt State University
Illinois Institute of Technology
Illinois State University
Lansing Community College
Michigan State University
Montana State University
Pennsylvania College of Technology
The Pennsylvania State University
Philadelphia University
Prairie View A&M University
Roger Williams University
Ryerson University
University of Illinois at Urbana-Champaign
University of Miami
University of Missouri
University of Nebraska-Lincoln
University of North Texas
University of Southern California
The University of Tennessee, Knoxville
University of Wisconsin-Madison
University of Wisconsin-Milwaukee
University of Wyoming
Virginia Polytechnic Institute and State University
Washington University in St. Louis
Through this competition, future architects, engineers, construction managers, and entrepreneurs will gain the skills and experience to start careers in clean energy and generate creative solutions to real-world problems. View the 2015 competition results.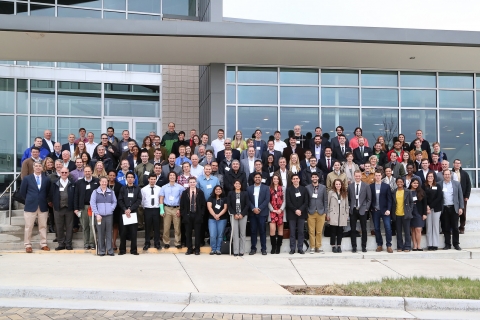 What Is the Race to Zero?
The Race to Zero is an annual competition, open to students and faculty from any interested collegiate institution. The competition is based upon a real-world scenario where a builder is developing a new high performance home product line or needs to update an existing product line (house plan) to a high-performance house design. College teams are posed with a design problem and are asked to either create a new house design that satisfies the project requirements or redesign an existing floor plan. The mandatory performance target is the DOE Zero Energy Ready Home specification. For more information on competition requirements and timelines, visit the Competition Requirements page or contact racetozero@ee.doe.gov.