The Standard Energy Efficiency Data (SEED)™ Platform is a software application that helps organizations easily manage data on the energy performance of large groups of buildings. Users can combine data from multiple sources, clean and validate it, and share the information with others. The software application provides an easy, flexible, and cost-effective method to improve the quality and availability of data to help demonstrate the economic and environmental benefits of energy efficiency, to implement programs, and to target investment activity.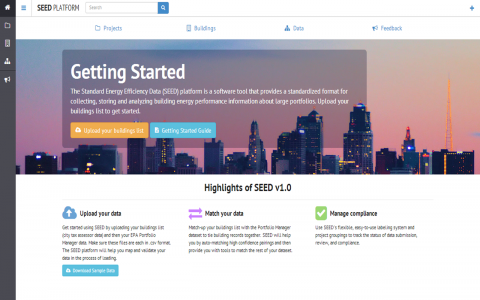 SEED™ makes it easy to manage and share data on the energy performance of buildings
Uses
SEED™ is designed to help organizations manage and share large datasets about building performance: State and local governments implementing building benchmarking regulations, portfolio managers, energy efficiency program managers, and more. While SEED V1 was designed with a focus on helping public entities that are implementing benchmarking and disclosure laws, the core functionality is highly flexible and can be useful for a range of other purposes. 
SEED offers these core data management functionalities in V1:
Establish a private, secure data repository
Facilitate data import from EPA's Portfolio Manager and other software tools, and merge it with other existing datasets such as property records and energy audits.
Translate the data into a standard format, based on the Building Energy Data Exchange Specification, and conduct cleansing and range checks to identify errors.
Allow the user to update the information over time and keep track of edits.
Search the data and create projects and reports to support activities such as energy performance disclosure law compliance monitoring or portfolio-level performance analysis.
SEED V1.1, coming in summer 2014, will also offer the ability to:
Share selected data, in a standard (BEDES) format, via export functionalities or the Application Programming Interface (API) with other software tools, public-facing dashboards, researchers, consultants, and others.
Share selected data with the Department of Energy's Buildings Performance Database (BPD), where it can be accessed anonymously and in aggregate by the public.
Benefits
SEED™ is designed to eliminate many tactical data management issues in order to help make existing building performance data and systems interoperable.
SEED makes data management easier. SEED helps automate the process of formatting, matching and cleaning data. This significantly reduces the tedious work needed to get data ready for analysis, which is often the most time-consuming part of managing energy performance data. SEED allows multiple parties to work on the same dataset and keep track of edits and activities. As a result SEED helps increase data quality and save staff time.
SEED is free. The core SEED software is free and can be used out of the box. This significantly reduces software development costs and the need for IT support of custom applications. SEED users only incur costs related to how the SEED software is hosted (server, storage, and system administration costs), and for any add-on products or services they may choose to purchase from third parties.
SEED is connected. While V1 can handle many kinds of data imported in .CSV format, V1.1 and later versions will provide seamless links with related tools such as EPA Portfolio Manager, DOE Buildings Performance Database, and DOE Commercial Building Energy Asset Scoring Tool.
SEED is standard and objective. It provides a common format for storing and sharing energy data. This enables easier sharing and comparison between datasets as well as standardized third party applications. It allows management and storage of data from multiple sources about the same buildings, and permits collaboration and sharing between jurisdictions or other selected external parties
SEED is private and secure.  The SEED platform is a web application (a software that runs in a web browser) that the user installs and links to their own database.  Each user downloads their own copy, installs it in a location of their choice, and determines who has access to their data.
SEED is open source, extensible and vendor neutral.  The core SEED code is open source, which means that anyone can add onto or modify the software. This prevents vendor lock-in and allows almost unlimited flexibility to add and modify features to collect new information and utilize data in new ways.