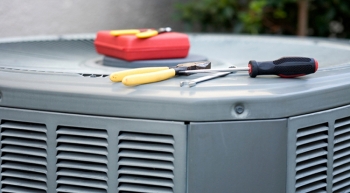 Heating and air conditioning – an $11 billion industry in America - accounts for 5% of domestic energy use. By reducing contaminant buildup, a new technology could increase efficiency by as much as 25%. Photo courtesy: ©iStockphoto/JaniceRichard.
Equipping Clean Energy Entrepreneurs at the Collegiate Level
And they're off! The Energy Department's Cleantech University Prize (CUP) – a national competition aimed at equipping clean energy entrepreneurs at the collegiate level – recognized its first regional winner in February at the Berkeley campus of the University of California. As the lead contender, startup Nelumbo triumphed to take the grand prize and a slot in the race for the national competition in June.
According to Nelumbo, its OMNIPHOBE nanocoating has the potential to significantly increase the efficiency and performance of air conditioning systems. The coating – 200-times thinner than a human hair – sheds water and oil and raises the efficiency of heating, ventilation, and air conditioning systems by up to 25% by eliminating contaminant build-up. The product also costs less than 2% of an AC unit – a value proposition that could lend itself to universal applications at any scale.
Selected last fall as one of seven teams to compete, Nelumbo and other college teams gained nearly four months of extensive mentoring and entrepreneurial training targeted to cleantech start-ups as well as premiere access to the advanced capabilities in fabrication and prototyping at UC Berkeley. This regional CUP competition culminated in a rigorous pitch presentation before a panel of judges comprised of investors, private industry, and federal representatives in energy efficiency and renewable energy.
Berkeley Joins the Race
Cosponsored by the Berkeley Energy and Climate Institute and Berkeley Energy and Resources Collaborative, this is UC Berkeley's first year hosting a regional competition, and the results are demonstrating promising technologies with diverse solutions to climate change – including a process that makes it easier to install solar panels on rooftops, a novel technology that captures waste emissions to create fuels, and a new take on solid-state batteries.
In addition to champion Nelumbo, UC Berkeley named Cuberg and OPUS 12 as runners-up in the competition. Cuberg is developing high-performance solid-state batteries that could store twice as much energy as batteries manufactured today, with the potential to extend the range and reduce the cost of electric vehicles while substantially reducing carbon emissions in the transportation sector. OPUS 12 is developing an electrochemical device that converts carbon dioxide (CO2), water, and electricity into valuable fuels and chemicals that are cost-competitive with conventional products – potentially transforming CO2 from a liability into an opportunity.
A Legacy of Innovation
Now in its fifth year, the CUP competition draws from a rich landscape of research capabilities at America's leading colleges and universities. CUP was formerly known as the National Clean Energy Business Plan Competition, an effort that has already attracted more than 1,000 teams nationwide, resulting in more than 70 ventures, 120 jobs, and $60 million in follow-on funding.
Later this month, another first-time participant – Carnegie Mellon University – will host the second of eight regional contests between now and the end of May. On June 21-23, the regional winners and runner-ups will compete once more in the National Cleantech University Prize in Denver. Watch for more news on our regional competitions!