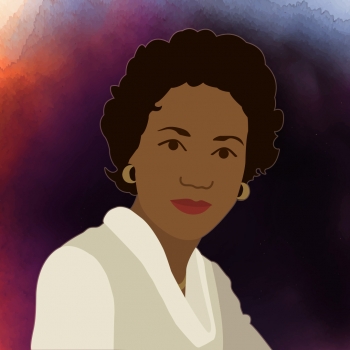 Rocket Scientist Annie Easley is our second woman in STEM #ThrowbackThursday for 2016. | Illustration by Carly Wilkins, Energy Department.
It's Women's History Month on Energy.gov. During the month of March, we're highlighting the great contributions to science, technology, engineering and mathematics or STEM fields made by women of color throughout history, as well as taking a look at fascinating work that women are doing in STEM fields today.
Annie Easley (1933-2011) was a computer scientist, mathematician and rocket scientist. She worked on Centaur technology at NASA -- a high-energy rocket technology that uses liquid hydrogen and liquid oxygen to boost rockets into space. She also co-authored numerous papers about nuclear engines in rockets and she worked on solar, wind and energy projects.
Here are some other facts about Annie Easley you might not know:
Easley worked at NASA before it was NASA. When she started her career there in 1955, it was called National Advisory Committee for Aeronautics, or NACA.

She started out studying pharmacy at Xavier University in New Orleans, but dropped out to get married and move to Cleveland. The university there had just closed its pharmacy program, so she had to look for a different career. An article in a Cleveland newspaper about twin sisters who worked as "human computers" at NACA caught her eye, she applied there, was hired and the rest is history.

Easley was raised by a single mother who told her she could do anything she wanted as long as she worked at it.

Before civil rights laws of the 1960s, Easley helped train African Americans to take the voting test in her home state of Alabama.

She was a founding member and one-term president of the NASA Lewis Ski Club, even though she didn't start skiing until she was 46. She skied regularly in Colorado, Canada and Europe.