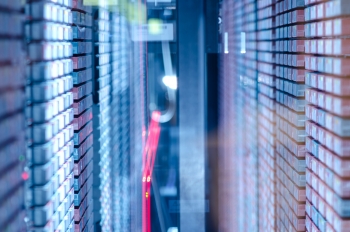 Fun fact: Most systems require air conditioning or chilled water to cool super powerful supercomputers, but the Olympus supercomputer at Pacific Northwest National Laboratory is cooled by the location's 65 degree groundwater. Traditional cooling systems could cost up to $61,000 in electricity each year, but this more efficient setup uses 70 percent less energy. | Photo courtesy of PNNL.
Supercomputers are used to model and simulate complex, dynamic systems that would be too expensive, impractical or impossible to physically demonstrate. Supercomputers are changing the way scientists explore the evolution of our universe, climate change, biological systems, weather forecasting and even renewable energy.
The Energy Department's National Labs have some of the most significant high performance computing resources available, including 32 of the 500 fastest supercomputers in the world. The National Labs make their high performance computing facilities available to researchers from industry and academia so that these public investments in state-of-the-art technology are able to generate the greatest possible intellectual and economic benefit.