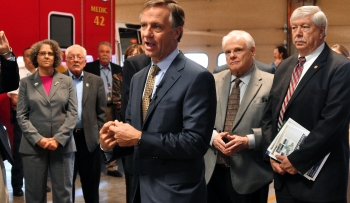 Tennessee Governor Bill Haslam, at ETTP's fire station, discusses economic opportunities in Oak Ridge.
On March 21, Tennessee Governor Bill Haslam visited the Energy Department's East Tennessee Technology Park in Oak Ridge. During his visit, he met leadership from Oak Ridge's Office of Environmental Management (OREM) and URS|CH2M Oak Ridge (UCOR), the site's primary cleanup contractor, along with state and local officials to learn how environmental cleanup is paving the way for economic development in the region.
During the meeting, OREM Deputy Manager Sue Cange discussed how cleanup is changing the landscape at the East Tennessee Technology Park (ETTP) and the opportunities the site offers to attract major business and industry to locate at the site.
"It's unbelievable the transformation I've witnessed since arriving 23 years ago," said Cange. "As we make large strides in cleanup at ETTP, we have all of the tools necessary to achieve our goal of converting the site into a private business and industrial park. We have the infrastructure, technology, and unparalleled partnerships."
OREM spent time acknowledging the strong relationships with its stakeholders, environmental regulators, contractors, and state and local officials that have led to its reindustrialization success. Some of the most vital partnerships for economic development involve the City of Oak Ridge and the Community Reuse Organization of East Tennessee.
To date, the Energy Department has already worked with these parties to transfer infrastructure, emergency response services, and 700 acres for reuse, and more can be transferred and leased as cleanup continues.
After the morning briefing, Governor Haslam spoke with media and echoed the belief that Oak Ridge has great potential for major industry and business. He cited the proximity to infrastructure, interstates, airports, and major centers for education.
"It's incredibly exciting to see the economic development potential of this property," Haslam said. "As a state, we have a real vested interest in what happens here."
The governor also discussed the Energy Department's other assets in Oak Ridge that provide great advantages for industry searching for a new home.
"I think you always want to recruit to your strengths," he said. "I think the nation's best national lab is seven minutes away. Anything that can be related to other work here in Oak Ridge is a natural."
Through leases and transfers, the Energy Department has saved more than $110 million and brought in dozens of businesses.  In addition, OREM saves $6 million annually since transitioning onsite fire and emergency services to the city. These savings allow the agency to direct more funds to cleanup and accelerate timetables to completely transfer ETTP to the private sector.
"The cleanup is important to us because it opens up a window of opportunity by having this big a piece of property right here in East Tennessee," Haslam said.