One goal of LM, as laid out in the 2011–2020 Strategic Plan, is to place DOE legacy sites and property in the most beneficial use consistent with LM's mission requirements. LM considers environmentally sound land uses for properties under its custody, directing a significant effort to evaluating possible land use options. Where possible, LM makes lands and facilities available for government, public, and private use consistent with the tenets of sustainability and good land management practices. LM was formally established in 2003 to manage legacy sites that have no continuing mission and to conduct the long-term surveillance and maintenance (LTS&M) activities that will ensure future protection of human health and the environment.
DOE supports initiatives to reduce the federal footprint (and the associated maintenance costs) wherever possible and to ensure that all land is receiving maximum beneficial uses that do not allow exposure to any residual contamination on the site. LM has only records and stakeholder information responsibilities for 38 sites where there is no residual contamination. These sites can be used in any manner consistent with local regulations and zoning.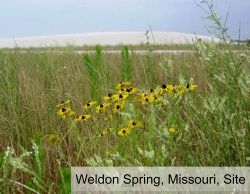 LM has a varied range of responsibilities at the remaining 51 sites in its inventory. Activities of DOE and its predecessor agencies have left a legacy of environmental contamination that can impact human health and the environment. LM conducts routine LTS&M activities at its sites on more than 11,000 DOE-owned acres. LM's inventory of sites will continue to grow as DOE missions cease and the associated facilities close. More than 50 additional sites have been identified to transition to LM from cleanup entities, both DOE and the private sector, in the future. As LM conducts LTS&M activities for its sites, focus is also on land reuse. Even at these sites with residual contamination, many sites in the LM inventory are currently undergoing LM-initiated reuse activities or numerous uses by their owners or other organizations. For these sites, reuse is conducted with approval from DOE and the site regulator and use is monitored to ensure continued safety from exposure.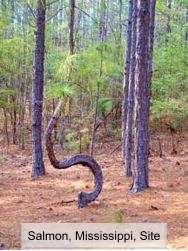 To establish reuse that allows access to the land but maintains protectiveness, LM has developed an approach to evaluate property for potential reuse from complete disposition of the land to uses of the land by others while DOE maintains ownership. LM seeks to build partnerships with other federal agencies, national organizations, local development commissions or groups, and private individuals that have resource experience and knowledge. Reuse options are evaluated on a site-specific basis for compatibility with the primary objective of protectiveness. A chosen reuse for a particular site may include institutional controls, which are use restrictions to ensure any land or resource use remains protective.
Currently LM has 17 sites in some type of reuse, totaling more than 6,600 acres. This represents reuse at more than one-third of the DOE-owned acres under LM custody and control. To date, LM has successfully conducted disposition of 6 properties (including 3 entire sites) and has established 11 beneficial reuse agreements at other sites it still manages. The beneficial reuse opportunities include disposition; renewable energy initiatives; conservation, such as natural resource protection and habitat development; agricultural purposes, such as grazing and hay production; and community and educational outreach.
THE TYPES OF LM-INITIATED REUSE INCLUDE:
Disposition: DOE's preferred reuse option is property disposition, which reduces the federal footprint and puts the property under the jurisdiction of others. Removing remediated properties from DOE administration by disposition is DOE's primary goal in reuse. For more information about sites dispositioned by DOE to others, see the following site pages: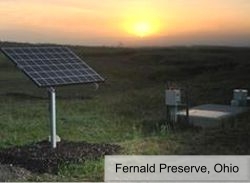 Renewable Energy: LM promotes the reuse of legacy sites for solar photovoltaic (PV) facilities, which can provide a number of benefits. Legacy sites may have environmental conditions that make commercial or residential redevelopment unreasonable options. LM's processing and disposal sites may also provide job opportunities in urban and rural communities and can advance cleaner and more cost-effective energy technologies. LM is committed to pursuing renewable energy development and is actively evaluating several sites as potential candidates for renewable energy projects.
To support an LM goal to manage legacy land and assets while emphasizing protective real property reuse and disposition, LM developed a solar decision tree to be used as a screening tool for future PV projects. The basis of the decision tree is a flowchart developed by the National Renewable Energy Laboratory (NREL) and the U.S. Environmental Protection Agency (EPA). The NREL and EPA flowchart was tailored to fit LM processes and is flexible enough to guide decision making for other LM reuse initiatives. For PV projects, the decision tree considers land ownership, usable acreage, financial visibility, land use restrictions, National Environmental Policy Act considerations, stakeholder concerns, disposal site restrictions, and availability of existing utility infrastructure.
Renewable Energy at the Durango, Colorado, Disposal Site: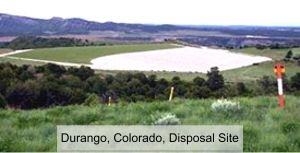 The Durango, Colorado, site is favorable for a solar PV system because the uranium mill tailings disposal cell is on a hillside facing south, transmission lines cross a corner of the property, and the site is only one-quarter mile from a substation. Since the disposal site is regulated by the U.S. Nuclear Regulatory Commission (NRC), DOE worked with NRC and the State of Colorado to demonstrate that the cell's performance would not be adversely impacted if a PV system is built on the cover.
The installed system must not change the grade, disturb riprap, or affect the lower layers, such as the radon barrier, of the cell cover. The cell top favors PV installation. The surface is sloped 1 to 2 percent to promote runoff and minimize erosion and since it is essentially flat, would not have to be altered prior to installation. Traditional PV systems typically use concrete foundations or metal anchors to stabilize the panels. However, rooftop systems have been developed that build ballast into the frame or use unique panel designs to eliminate intrusion into the cell cover. Infrastructure will be placed off the cell as much as possible to minimize the disturbance and to use the cell top most efficiently.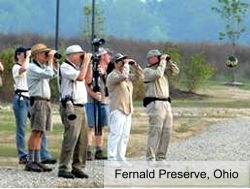 Conservation: Potential conservation uses include natural resource protection, habitat development and enhancement, and wildlife management options at LM sites. Examples of conservation reuse at LM sites can be found on the following site pages:
Agriculture: Many of the LM sites are in the western states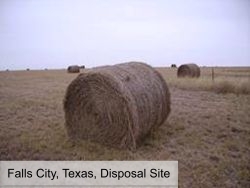 and are surrounded by either large ranches or land administered by the U.S. Bureau of Land Management. This land has traditionally been used for grazing. LM promotes the continued reuse of its sites. Grazing and other agricultural uses, such as haying operations, are LM's most prevalent reuse, especially for the remote western sites. These uses also benefit DOE by maintaining appropriate range conditions and by engaging local ranchers who provide additional support for site activities.
Community: LM works with local community leaders, planners, and the public to identify appropriate uses of land that DOE owns and sites where DOE has the responsibility for residual contamination. Community uses include:
Open-space preservation – Partnerships with local entities who may wish to use the land for parks or to provide a natural setting for wildlife.
Recreational uses – Improvements specifically targeted at recreation, such as hiking and biking or nature trails.
Educational outreach – Partnerships with school districts or universities to provide curriculum elements to educators and field experience to both teachers and students on the historical and natural aspects of DOE sites.
LM maintains a constant focus on reuse and an essential element of site transition into LM is a review of reuse potential. As sites continue to transition into LM, each site will be evaluated for possible reuse options and all reasonable opportunities will be pursued.