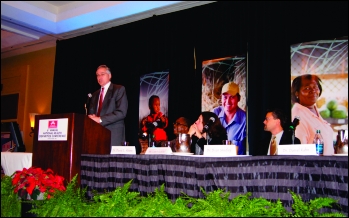 Speaker Dr. Daniel Rahn at the Health Disparaties Conference.
The Sixth Annual National Conference on Health Disparities, Reducing Health Disparities through Sustaining and Strengthening Healthy Communities, was held in Little Rock, Arkansas, November 28 through December 1, 2012, at The Peabody Little Rock. Like its five predecessors, the 2012 conference focused on policies and programs to reduce health disparities among minority and low-income populations. Presenters emphasized the role of social determinants, personal responsibility, and prevention in initiatives that reduce disparities.
Over time, our nation's healthcare providers and policy makers have come to understand that the well-being of each American impacts the well-being of all Americans. Hence, this conference is important to all Americans, and not just our nation's minority citizens. Truly healthy communities and their citizen leaders recognize the related roles of human health, environmental quality, environmental justice, and economic development in community development and well being.
This year, former president Bill Clinton recorded a personal video message for the participants, showing his support and engagement in reducing health disparities for all Americans. Additional presenters included Congressman James Clyburn (D–SC); Congressperson Donna Christensen (D–VI); Rex Lee Jim, Vice President, Navajo Nation; Congressman Raul Grijalva (D–AZ); and Jocelyn Elders, M.D., former U.S. Surgeon General during the Clinton Administration; among many others.
For additional details, please go to http://buildinghealthycommunities2012.com.