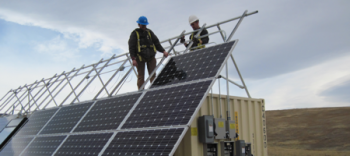 Subcontractor personnel install solar panels and other infrastructure on a 40-foot conex box that houses the batteries and control equipment for the 6 kilowatt photovoltaic system that powers the ETPTS groundwater treatment system.

DOE was able to minimize impacts to the habitat of a federally protected mouse and provide the potential for relatively easy relocation by mounting the solar panels on the side of the conex box that houses the batteries and other system equipment.
The U.S. Department of Energy (DOE) recently added a 6 kilowatt solar photovoltaic system to provide power to operate an enhanced treatment system that removes volatile organic compounds (VOC) from contaminated groundwater at the Rocky Flats, Colorado, Site.
The East Trenches Plume Treatment System (ETPTS) utilizes a collection trench to capture contaminated groundwater and route it to treatment cells, where the water flows through a media that removes the VOC contaminants. However, experience has shown that over time the zero-valent iron (ZVI) media oxidizes and inhibits flow, which reduces the treatment effectiveness and requires costly periodic media changes.
In March 2011, DOE installed a prototype air-stripping component in a similar treatment system and determined that system efficiency was enhanced significantly by air stripping. The air stripping is accomplished by pumping the contaminated water through multiple helical spray nozzles that are located in a manhole.
Once testing determined that the air-stripping concept was viable, DOE had to develop the power supply to operate the 20-gallon-per-minute pump required to supply water to the air stripper. Since the Rocky Flats site has no line power available, every electrical system onsite depends on solar power.
The ETPTS is located within the habitat boundary of the Preble's meadow jumping mouse, which is protected by the Endangered Species Act. In order to minimize disruption to the mouse habitat, the solar array was initially going to be placed on a concrete pad located on a closed access road approximately 500 feet from the ETPTS influent manhole where the air-stripping components are installed. However, that would still require trenching for the conduit that would convey the electrical power from the solar panels to the air-stripper equipment.
A vendor proposed utilizing a 40-foot conex box as the mounting structure for the solar panels and to house the 72 heavy-duty two-volt marine-style batteries and associated electrical equipment required to provide 24-hour power to the system. In addition to further minimizing the impact on the protected habitat, the conex box installation also affords the opportunity to relocate the entire solar system should that become desirable.
The ETPTS air stripper went on line on February 22, 2013, and Rocky Flats site staff are continuing to monitor and evaluate the results of the air-stripper component to determine if the system will continue to simply enhance the treatment or extend the life of the ZVI media, or if it could replace the ZVI component altogether.