The foundation of the U.S. Department of Energy (DOE) Office of Legacy Management's (LM) Goal 4, "Optimize the use of land and assets," is to establish environmentally sound and protective land uses on LM sites. LM believes there can be beneficial uses of land even though regulatory or other land-use restrictions may be needed. As part of Goal 4, LM will make its lands available for government, public, and private uses, provided such uses maintain cleanup efforts and are consistent with the site remedies, the tenets of sustainability, and the best resource-management practices. The preferred reuse option is disposition, which transfers property to others for beneficial reuse and reduces DOE's overall acreage footprint.
In February 2007, LM set goals to achieve and sustain organizational excellence, as part of its designation as a High-Performing Organization (HPO), LM determined that the goals for dispositions needed to be measurable. In its second HPO proposal in 2012, LM program goals included disposition of five additional federal properties between fiscal year (FY) 2012 and FY 2016. LM is well on its way to meeting and exceeding this goal. The General Services Administration sold a parcel at the Monticello, Utah, Site to the City of Monticello, via Quitclaim Deed, in December 2013. Four parcels at the Rocky Flats, Colorado, Site were jurisdictionally transferred from LM to the U.S. Fish and Wildlife Service in February 2014 for inclusion in the Rocky Flats National Wildlife Refuge. With the disposition of these five parcels, LM removed approximately757 acres of land from its inventory and succeeded in an early fulfillment of its goal to disposition five federal properties. LM is striving to exceed that goal with at least two more dispositions by the end of FY 2016.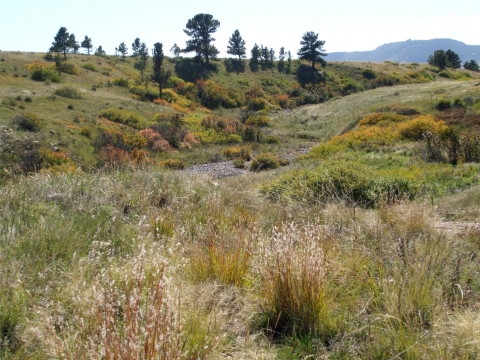 Parcels dispositioned by LM will become part of the U.S. Fish and Wildlife's Rocky Flats National Wildlife Refuge in Colorado.
LM considers land transfers to be the most beneficial to all parties. Removing remediated properties from DOE's long-term surveillance and maintenance responsibilities through disposition is one of LM's primary goals. Transfers return land to local tax rolls, restore property for productive use, and reduce the federal footprint (as mandated by President Obama's June 2010 memorandum). Transfers also have the potential to save the federal government money that would otherwise be spent to maintain the land, which also benefits the taxpayer.
After contamination has been removed from a site, LM can transfer all or portions of the property that exceed its needs. Others can obtain the excess property for uses that comply with local zoning codes or other applicable statutes. Many sites are in LM's inventory due to the presence of residual contamination and the existence of institutional controls (ICs), which are restrictions that ensure any use of the land or its resources remain protective of human health and the environment. ICs must be included in the land transfer and enforced after ownership changes. LM must include the required restrictions in the transfer documents and be guaranteed continued access to the property to monitor site conditions and to conduct any future environmental work. As an example, land-use restrictions (recreational versus residential); excavation restrictions; and access rights for environmental investigation, remediation, or other corrective actions at the Monticello site were included in the Quitclaim Deed that transferred the property to the City.
LM sites may be regulated by other federal environmental cleanup statutes including the Comprehensive Environmental Response, Compensation, and Liability Act; the Resource Conservation and Recovery Act; the Uranium Mill Tailings Radiation Control Act; the Formally Utilized Sites Remedial Action Program; and the Nuclear Waste Policy Act. Many sites are also subject to associated state regulations. In addition to ICs that are required by the regulatory authority, LM may impose other ICs on a site that provide protective "layers" if one of the required ICs fails. LM must maintain access for monitoring, inspections, and any potential remediation in the future. The Jurisdictional Transfer letter for the Rocky Flats parcels includes language that allows DOE, the U.S. Environmental Protection Agency, and the Colorado Department of Public Health and Environment access to complete any actions necessary to fulfill post-transfer environmental remediation requirements.
LM is proactively searching for disposition opportunities on the lands in its inventory. With this increased emphasis, LM will ensure regulatory approval for any dispositions, ascertain that all required restrictions are transferred during the disposition of any property, and periodically monitor the ICs to ensure that required controls are visible to necessary parties and that they are being honored by the new landowner.