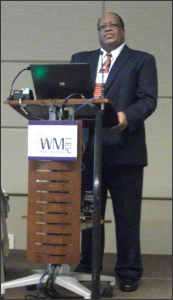 The U.S. Department of Energy Office of Legacy Management's (LM) efforts to maintain long-term surveillance and maintenance (LTS&M) records were highlighted during the 2013 Waste Management Symposia held February 24 through 28, in Phoenix, Arizona.
John Montgomery, LM Archives and Information Management Team Leader, discussed challenges in maintaining records regarding  the Cold War–era nuclear weapon production sites. These challenges include understanding the contents of record collections, organizing access to the records, and incorporating new records to maintain comprehensive information about each site.
Maintaining access to the knowledge contained in LTS&M record collections is one of LM's primary responsibilities. To fulfill its responsibilities, LM established a consolidated records storage facility at the LM Business Center in Morgantown, West Virginia. The facility is certified by the National Archives and Records Administration as an official repository for federal government records.
Montgomery explained LM's efforts to replace an obsolete electronic recordkeeping system. The new system institutes and enforces controls to maintain information authenticity. The system is used to research stakeholder requests made via the Freedom of Information Act, the Privacy Act, and other formal request processes.
The session also emphasized LM's work to maintain information about the sites for current and future uses. Historical and current information is needed to perform surveillance and maintenance activities and will provide the framework to tell each site's story to future generations.
The 2013 Waste Management Symposia attracted nearly 2,000 registrants from around the world. The conference is organized in cooperation with several organizations and government agencies, including the U.S. Department of Energy.