A new groundwater monitoring/validation (MV) well was installed at the Central Nevada Test Area (CNTA) in September 2013. LM proposed this well to the Nevada Division of Environmental Protection (NDEP) to enhance the existing monitoring network and to expedite the Federal Facility Agreement and Consent Order (FFACO) closure process for the CNTA Subsurface Corrective Action Unit. CNTA is located in Hot Creek Valley in Nye County, Nevada, adjacent to U.S. Highway 6, about 30 miles north of Warm Springs, Nevada. CNTA was the site of "Project Faultless," a test site where a nuclear device was detonated at a depth of 3,200 feet below ground surface by the U.S. Atomic Energy Commission.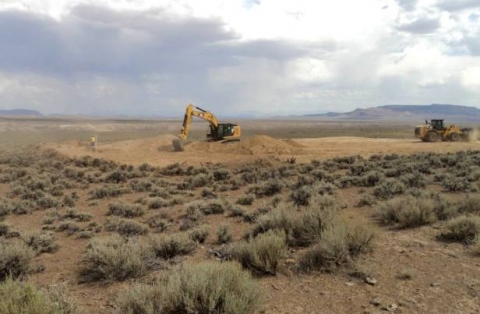 Initial grading and construction of the MV-6 well pad, Central Nevada Test Area, Nevada.
The new well (MV-6) is designed to monitor the alluvial groundwater system down gradient of the detonation and have a completion depth of approximately 1,000 feet. Work scope included a cultural resources survey, necessary permits for well installation and water use, constructing the well pad, procuring equipment for well pad construction, pre-fieldwork planning, procuring a drilling subcontractor, and completing the new well by the end of fiscal year 2013.
A cultural resources survey was conducted to ensure that the well pad could be constructed at the location that was agreed to by NDEP. Results from the cultural resources survey indicated that no artifacts were present and supported approval for the construction at the planned location.
After receiving approval, the well pad design was completed, necessary permits were obtained, and field personnel and equipment were mobilized to the site on August 18 to construct the well pad. The well pad was constructed with an infiltration basin that was designed to contain approximately 80,000 gallons of drilling-related fluids and borehole cuttings. Construction water, for compaction purposes and dust suppression, was obtained from an onsite well. Construction activities were completed on August 24, without any incidents and ahead of the scheduled completion date.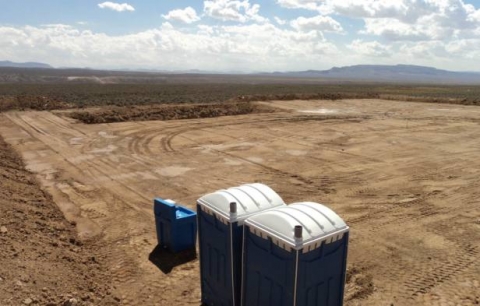 Final well pad for well MV-6, Central Nevada Test Area, Nevada.
The new well will be incorporated into the monitoring and sampling network during the annual sampling event in October. Analytical results and depth to groundwater data will be included in the annual Groundwater Monitoring Report that will be provided to NDEP in early 2014.