DOE will continue monitoring excavations in Monticello's streets and will dispose of tailings that are found that had been used for fill around utility lines. Monitoring of groundwater at the former mill site and treatment of contaminated water east of the mill site will also continue.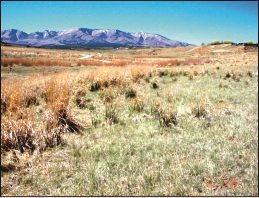 The cleaned up mill site was restored with native plants and transferred to Monticello for recreational use.
Five-year reviews for the two Monticello, Utah, Comprehensive Environmental Response, Compensation, and Liability Act (CERCLA) sites were completed in June 2012 by U.S. Department of Energy (DOE) Office of Legacy Management (LM), U.S. Environmental Protection Agency, and Utah Department of Environmental Quality. The purpose of a CERCLA Five-Year Review is to assess environmental remedies and ensure protectiveness of human health and the environment. Conducting the reviews was a nine-month effort that required several technical disciplines as well as frequent consultations between LM and the environmental regulators.
A public notice was placed in the San Juan Record and the Blue Mountain Panorama on August 1, 2012, to inform the public that the reviews had been completed. The reviews determined that the uranium mill tailings cleanup and ongoing monitoring were maintaining protection of human health and the environment. The next five-year review will be performed in 2017. The Monticello five-year reviews can be viewed on the LM website at: http://www.lm.doe.gov/Monticello/Documents.aspx.