When you hear about the U.S. Department of Energy (DOE) Office of Legacy Management (LM), what comes to mind? Is it long-term surveillance and maintenance (LTS&M) activities such as conducting environmental monitoring, performing annual inspections, or maintaining protective remedies? Is it managing records and making them available to requesters? Is it managing legacy land and assets or emphasizing safety, reuse, and disposition?
If any of those activities come to mind, you are probably familiar with LM's role in fulfilling DOE's post-closure responsibilities and ensuring the future protection of human health and the environment. However, the depth of LM's involvement may surprise you.
LM is responsible for more than just the routine collection of samples, inspections, and records management for over 80 sites. Recent LTS&M activities have involved procuring the services of two oceangoing research vessels, including divers, for environmental monitoring at the Amchitka site in Alaska; installing a new, 1,000-foot deep monitoring well at the Central Nevada Test Area site; and injecting emulsified soybean oil at the Pinellas County, Florida, Site, to enhance biodegradation of chlorinated volatile organic compounds, or CVOCs.
As part of their Archive Information and Records Management responsibilities, LM completed a project that digitized close to 400,000 medical x-rays of former DOE contractor employees. The project involved scanning x-ray images and converting them to an acceptable digital format. The digitization of records ensures their long-term preservation and assists with expedient retrieval of information when requests for LM records are received.
At the 2014 Waste Management Conference held in Phoenix, Arizona, March 2 through 6, members of the LM management team presented a panel on the above responsibilities, and more. Day two of the conference was set aside for presentations on the past, present, and future of LM. Technical papers on Site Transitions, the Formerly Utilized Sites Remedial Action Program Strategy, Managing Public Concern about Health Risks, the Defense-Related Abandoned Uranium Mines Report to Congress, Next Generation GEMS, and Remediating Groundwater at Uranium Mill Tailings Radiation Control Act Sites were given by LM management. Both the panel and the technical papers sessions were attended by approximately 50 people.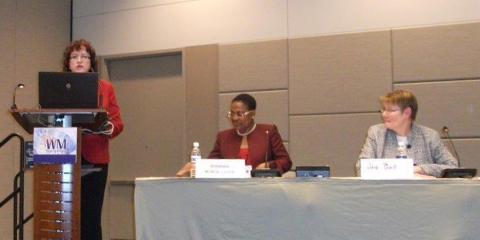 LM staff presented information related to its goals and responsibilities at the 2014 Waste
Management Conference.