For the Bishop Paiute Tribe of California, clean energy projects offer a way to feed three birds with one seed. By taking steps to reduce energy use and harnessing renewable energy sources to meet the community's energy needs, the Tribe is working to mitigate the impact of high energy costs, create good local jobs for its people, and preserve the land and resources for future generations.
Having successfully completed a weatherization training project funded by a U.S. Department of Energy Tribal Energy Program grant in 2010, the Bishop Paiute began exploring additional opportunities to lower energy costs, create jobs, and reduce their carbon footprint by developing their abundant solar energy resource.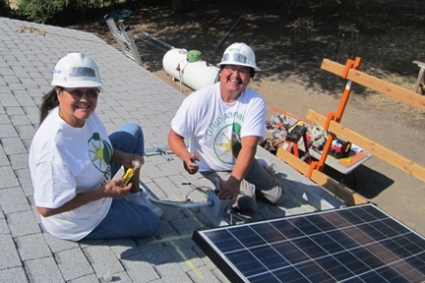 "My electric bills are very high—about $145 per month—and I am supporting three kids," said WaSuYaa West, who had a solar photovoltaic (PV) system installed on her home as part of a demonstration project led by the nonprofit organization GRID Alternatives.
The system, installed with some donated equipment from GRID's corporate partners, is expected to reduce West's utility bills by an estimated 50% or more—saving money she can invest back into her family and the community. West appreciated the opportunity to cut her household costs without a formidable up-front investment. "There is no way I could ever afford solar panels on my own."
West was just one of five families on the reservation that had solar panels installed on their homes as part of the technical assistance GRID Alternatives provided to the Tribe.
In addition, the organization helped prepare a group of tribal job trainees for paid work opportunities with the subcontractors being hired to install rooftop solar PV systems for as many as 50 more tribal families with demonstrated need.
For 10 hot, humid days in July 2013, GRID Alternatives staff bunked down in two mobile homes on the Bishop Paiute Reservation to train tribal members on solar system installation and maintenance. Job trainees on the project ranged from tribal weatherization program staff members looking to broaden their skill set with solar installation experience to people like Flora Dewey, an energetic grandmother seeking new work opportunities.
Project participants view the project's triple bottom line of financial savings, job training, and clean energy as a boon to their community in the economically depressed, drought-stricken, and polluted Owens Valley.
Dewey said she used to work alongside her ex-husband on construction and roofing jobs but hasn't had paid work for some time because of the sluggish economy. She was excited about the opportunity to develop new skills alongside her two young nephews, who also participated in the training.
Charlene Redner, another tribal grandmother and a participating homeowner, expressed the views of many on the reservation, for whom the health and environmental stewardship aspects of the project are as important as the economic benefits. "My grandkids have asthma, and I have developed allergies over the years," said Redner. "I really think solar power will help improve the air, making these things much better."
GRID Alternatives estimates that the Bishop Paiute solar electric systems combined will total over 17 kilowatts, generating nearly 1 million kilowatt-hours of clean renewable energy over the lifetime of the systems. This equates to more than $160,000 in total savings for the five families. In addition, GRID expects the systems to prevent 505 tons of greenhouse gas emissions—an impact equivalent to planting 12,000 trees or taking 90 cars off the road for a year.
Bambi Tran, regional director at GRID's Inland Empire Office, said the demonstration project with the Bishop Paiute is a successful model for GRID Alternatives' work in tribal communities around the country. 
David ThunderEagle, Assistant Tribal Administrator for the Bishop Paiute Tribe, agrees. "The Tribe feels really proud. This is good for everyone all around."
Located at the foot of the Eastern Sierra Nevada Mountains, the Bishop Paiute Tribe is the fifth largest Tribe in California with 1,700 enrolled members. The tribal leadership is actively engaged in development programs and projects that support and sustain the community's strong desire for self-sufficiency and self-determination, its deep cultural connection with the land, and its longstanding commitment to preserving and safeguarding its natural resources.
Like the Bishop Paiute, any federally recognized Tribe can apply for technical assistance from the DOE Office of Indian Energy and Tribal Energy Program to help implement energy efficiency and renewable energy projects.
Read more about the Bishop Paiute Tribe Weatherization Training Program and GRID Alternatives' Tribal Solar Program.