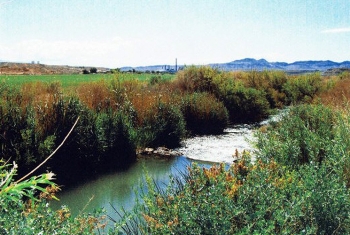 In addition to the planned 250-MW solar farm set to begin construction in June 2013, the Moapa Band of Paiutes is working on a second 150-MW project that would use both PV and concentrated solar technologies to generate power for the Tribe. Photo from Moapa Band of Paiutes.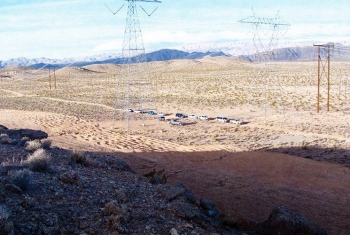 Photo from Moapa Band of Paiutes.
Moapa Band of Paiutes Chairman William Anderson.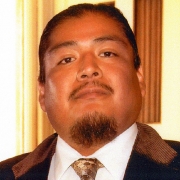 Change doesn't happen on its own. It's led by dedicated and passionate people who are committed to empowering Indian Country to energize future generations. Leading the Charge is a regular feature spotlighting the movers and shakers in energy on tribal lands. We spoke with Chairman William Anderson of the Moapa Band of Paiutes, which is breaking ground on the first industrial-scale solar photovoltaic (PV) project in Indian Country—a 250-megawatt (MW) solar farm that will power nearly 120,000 homes in Los Angeles.
Name: William Anderson
Tribe: Moapa Band of Paiutes
Title/Role: Chairman
How did you become involved in tribal energy?
Anderson admits he didn't know the first thing about energy. He grew up on the Moapa reservation in southern Nevada but, like so many, he moved on. Then a couple years ago he heard about his Tribe's plan for a major solar PV installation and came back to be a part of it. He ran for council and ended up as chairman.
"I had a crash course in solar," he said. "I had no idea what PV meant or what people were talking about so I had to find out everything I could in a month."
A quick study, Anderson championed his Tribe's plans and soon was negotiating with federal, state, and local agencies as well as private partners to move the project forward.
"I saw the opportunity for our people and decided I'm going to do everything I can to make this project come into being," he said. "We didn't even realize that if it happened, we would be the first."
Tell us about your Tribe's ground-breaking 250-MW solar generation project.
The Moapa reservation is about 75,000 acres of hot, dry, flat desert, which also happens to have an energy corridor running through it—making it ideal for a large-scale renewable energy project. The PV farm will be sited on a 2,000-acre plot that was meticulously selected to not impact sacred sites, an endangered tortoise species, or an old Spanish trail.
Recently, the project received a long-term power purchase agreement from the City of Los Angeles. The Tribe plans to start construction in June 2013, and by July there will be up to 500 people working on the project, which is expected to be fully operational in two years. Over the long term, the lease could infuse millions in revenue into the reservation of less than 340 residents.
Not one to rest on his laurels, Anderson said his Tribe already is working on a second 150-MW  project on 1,000 acres that would include both PV and concentrated solar power generation and will hopefully be up and running in 2017.
In addition, Moapa has applied for a $2.3 million grant from the U.S. Department of Agriculture (USDA) Rural Development to address the aging and expensive diesel generators that power the Tribe's primary economic engine—its Travel Plaza. According to Sarah Adler, director of Nevada USDA Rural Development, USDA and DOE will seek opportunities to partner in support of the Moapa Tribe's energy initiatives.
"This enables us to reinvest in our community," Anderson explained. "This is just the starting point for our master plan."
What do you see are the greatest opportunities for Indian Country?
"I think there are endless opportunities for Tribes in renewable energy," Anderson said. "We've set the template for others to follow. We are a small Tribe in the middle of a desert. If we can do this, anyone can."
Learn the basics of solar in the Office of Indian Energy's foundational course webinar on solar renewable energy.