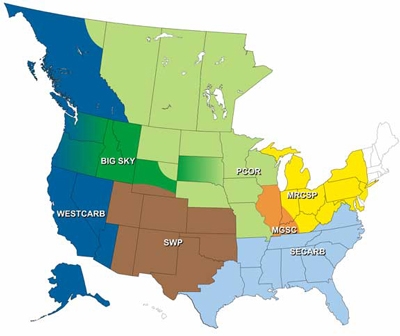 DOE has created a network of seven Regional Carbon Sequestration Partnerships (RCSPs) to help develop the technology, infrastructure, and regulations to implement large-scale CO2 storage (also called carbon sequestration) in different regions and geologic formations within the Nation. Collectively, the seven RCSPs represent regions encompassing:
97 percent of coal-fired CO2 emissions;
97 percent of industrial CO2 emissions;
96 percent of the total land mass; and
essentially all the geologic sequestration sites in the U.S. potentially available for carbon storage.
We launched this initiative in 2003. It's being completed in phases (I, II, and III) and forms the centerpiece of national efforts to develop the infrastructure and knowledge base needed to place carbon storage and utilization technologies on the path to commercialization.
Phase I: Characterization
During the first phase of the program, the Partnerships characterized the potential for CO2 storage in deep oil-, gas-, coal-, and saline-bearing formations. This work led to the publication of the Carbon Sequestration Atlas of the United States and Canada, which was last updated in December 2012.
Phase II: Validation
In the program's second phase, the Partnerships confirmed and validated regional sequestration opportunities through small-scale (less than 500,000 metric tons total) geological storage tests. Twenty small-scale geologic storage tests were conducted that collected additional data to:
confirm storage and injectivity estimates;
validate reservoir simulation models;
demonstrate effective monitoring, verification and accounting methods; and
develop guidelines for well completion, operations, and closure.
Phase III: Development
In the third phase, the RCSPs are working to implement eight large-scale (one million metric tons or more total) geologic storage and utilization projects that will demonstrate the long-term, effective, and safe storage and utilization of CO2 in the major geologic formations throughout the United States and portions of Canada. Phase III efforts are underway throughout the partnerships and injections are in process at six sites. The tests will:
Provide scientific data to validate the capacity estimates to within +/- 30% for deep saline formations, where little data currently exists.
Assess the effects of reservoir heterogeneity on the performance of the storage operations to contact the pore space and maintain injectivity.
Validate the reservoir models against field data; implement mitigation strategies to reduce potential hazards; and verify the fate of the injected CO2 using the most advanced monitoring networks applied to date.
Finally, these projects will demonstrate that the projects are representative of the regional geology to store large volumes of CO2 emissions generated from major point sources.
The seven RCSPs are comprised of more than 400 diverse organizations covering 43 states and four Canadian provinces. Click on each of the links below to learn more about the activities of each RCSP.