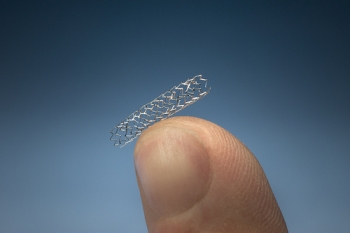 The platinum/chromium alloy used in new coronary stents manufactured by Boston Scientific Corporation was developed by a research team that included metallurgists from NETL.
Washington, DC - When people think of benefits from energy research, they usually don't envision saving lives. But thanks to an innovative alloy jointly developed by Boston Scientific Corporation (BSCI) and U.S. Department of Energy (DOE) metallurgists, that's what is happening.
Using a special platinum/chromium alloy, BSCI has developed a line of coronary stents that simplify medical procedures and allow treatment of a broader range of patients. Coronary stents save lives by permitting blocked or restricted arteries to be reopened, allowing blood and oxygen to flow freely again to cardiac tissue. Coronary artery disease, or heart disease, is the number one cause of death in the United States, affecting more than 13 million Americans.
The special alloy, developed with the Office of Fossil Energy's (FE) National Energy Technology Laboratory (NETL), is easier for coronary specialists to see via x-ray. This makes the surgeon's job easier and reduces the risk of damage to the patient's arteries, especially when multiple stents are required. The greater flexibility of the new stents allow them to be threaded through or implanted safely in arterial bends, which are typically more difficult locations to navigate during the insertion process. The greater visibility on x-ray facilitates accurate diagnosis or medical intervention during routine or emergency examinations.
The addition of platinum also increases the stents' resistance to corrosion, optimizing their longevity within the body. The alloy's strength reduces recoil, which reduces the likelihood of constriction after deployment; this means a stent's diameter tends to remain stable after deployment which leads to lower rates of blood clotting because fewer gaps are opened between the stent and the arterial wall.
The four highly successful product lines using the alloy earned NETL researchers an Award for Excellence in Technology Transfer from the Federal Laboratory Consortium. Additionally, the stents developed have rapidly gained a 45 percent market share in the United States (33 percent worldwide), placing them first in sales among coronary stent products. Global sales of the new stents have topped $3 billion since stents' introduction in 2010.
Results from the NETL/BSCI partnership also include the creation of 300 new jobs at Boston Scientific alone, many in skilled, highly paying engineering and production positions. More BSCI job creation is anticipated as new stent series are approved for marketing in the United States and the rest of the world. 
In addition, well over 100 American workers are employed in the supply chain that produces these stents--exclusively in the United States--and ships them globally. For example, Carpenter Specialty Alloys, an industrial producer of the breakthrough alloy, has upgraded its research and development capability to deliver pilot-production quantities needed for pre-clinical and clinical studies, expanding production, creating jobs, retaining workers, and invigorating the local economy.
BSCI has announced that all of their future stents will utilize this innovative alloy in their manufacture. Sales are expected to increase as cardiovascular surgeons learn more about the unique features and patient benefits using these innovative coronary stents.