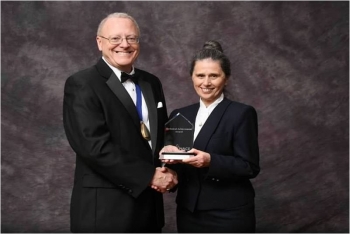 National EnergyTechnology Laboratory's Malgorzata Ziomek-Moroz (right) receives a 2013 Technical Achievement Award from NACE International, the Corrosion Society, for her accomplishments in the field of corrosion science.
It's a beautiful morning, and you've decided to save the environment and burn a few calories biking to work. You wheel your old bicycle out of the garage, but you don't make it past the driveway before you hear a small pop, followed by the clinking sound of the bike chain slithering to the pavement. Examining the rust-pitted chain, you wonder, "What happened?"
The answer is corrosion — the degradation of a material due to a reaction with its environment.
There are many different types of corrosion, and an equally diverse number of ways to control, delay, or prevent it. Corrosion scientists develop and refine methods of corrosion control, to keep our bicycles peddling, our airplanes up, and our bridges unbuckled.
NETL has a strong record advancing corrosion science through the efforts of its remarkable corrosion scientists. Recently, Dr. Malgorzata Ziomek-Moroz, an NETL research chemist, was recognized by NACE International, The Corrosion Society, for her work aimed at understanding the corrosion of materials.
NACE International honors achievements in the field of corrosion every year, bestowing several distinguished awards. Dr. Ziomek-Moroz received a 2013 Technical Achievement Award, which is given in recognition of advancements in corrosion engineering that have a significant impact on the practice of corrosion control or provide enhancement to the profession of corrosion engineering. She received the award for the impressive breadth of her contributions to the field of corrosion science, both as an educator and a researcher.
Dr. Ziomek-Moroz has made advancements in a wide variety of areas. Her contributions include the development of thermal spray zinc and titanium used for the cathodic protection of bridges, the creation of materials for solid oxide fuel cell interconnects, and the electrochemical machining of alloys.
For nearly a decade, Dr. Ziomek-Moroz was an educator at the Oregon Graduate Institute of Science and Technology. Her mentoring work guided several students into the field of corrosion and corrosion control, where their research earned recognition through NACE student awards. Dr. Ziomek-Moroz has also been a role model for middle and high school students interested in math, science, and engineering through her participation in the U.S. Department of Energy–sponsored National Science Bowl and DaVinci Days, Oregon's premier arts and science festival.
Innovations like those pioneered by Dr. Ziomek-Moroz are just some of the ways that corrosion scientists help to protect infrastructure and the environment from the ravaging effects of corrosion.  And keep you — and your bicycle — on the road.