A senior-level EM delegation led by Associate Principal Deputy Assistant Secretary Alice Williams visited the United Kingdom's Sellafield nuclear site.
EM Senior Advisor Dave Huizenga recently joined local lawmakers and state and federal officials to announce their partnership to increase focus on cleanup of mercury.
EM Senior Advisor Dave Huizenga recently received the nation's highest civil service recognition, the Presidential Rank of Distinguished Executive award.
Cleanup Sites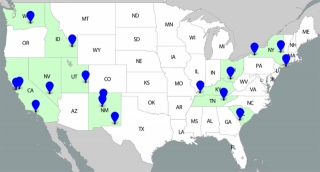 As the largest environmental cleanup program in the world, EM has been charged with the responsibility of cleaning up 107 sites across the country whose area is equal to the combined area of Rhode Island and Delaware. EM has made substantial progress in nearly every area of nuclear waste cleanup and as of September 2012, completed cleanup at 90 of these sites.