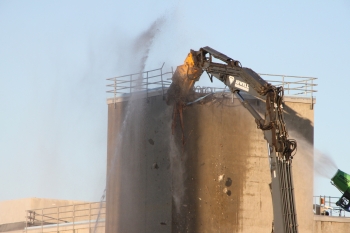 High-reach shears begin removing the top floor of the Plutonium Reclamation Facility.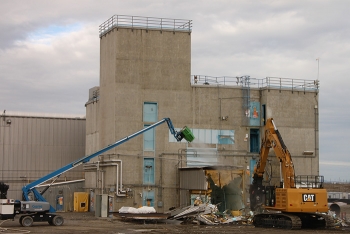 Shears remove an airlock that once serviced the Plutonium Reclamation Facility. Aerial and ground-based dust suppression equipment will control particulates during demolition.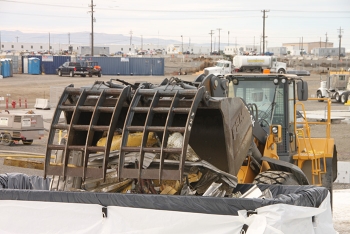 A front-end loader places demolition debris into a waste container for disposal at Hanford's regulated landfill.
RICHLAND, Wash. – After nearly 20 years of preparation, demolition is underway at the Hanford Site's Plutonium Finishing Plant (PFP).
   Earlier this month, heavy equipment began removing portions of the Plutonium Reclamation Facility (PRF), the first of the facility's four main processing buildings to be demolished. 
   "PFP is one of the most hazardous buildings on the Hanford Site, and the safe start to demolition is a history-making achievement for site cleanup, the community and the employees doing the work," said Tom Teynor, DOE manager for the PFP project.
   PFP produced approximately two-thirds of the nation's plutonium during its 40 years of production, leaving the facility heavily contaminated. After production stopped in 1989, employees stabilized and removed the excess plutonium and took out contaminated processing equipment — necessary work to allow demolition of a significant risk.
   EM and contractor CH2M HILL Plateau Remediation Company (CH2M) have numerous controls in place to ensure a safe and compliant demolition, including extensive dust suppression, air monitoring, site access controls and use of a structural engineer.
   Prior to demolition, the PFP team hosted a readiness assessment. A team of industry experts reviewed the preparations, procedures, training, equipment, emergency preparedness activities and other aspects of demolition. DOE and the Defense Nuclear Facilities Safety Board oversaw the assessment, which commended the PFP workforce for being engaged, committed to safety and actively involved in work planning. The PFP team incorporated recommendations from the assessment in documentation, training records and procedures.
   "The PFP workforce is the best in the business," CH2M PFP Closure Project Vice President Tom Bratvold said. "Their expertise and involvement has enabled tremendous progress on this complicated and challenging project."  
   The PRF demolition is expected to take about four months, followed by teardown of the plant's Americium Recovery Facility, also known as the McCluskey Room, the main processing facility, fan house and ventilation stack.