With roughly 80% of the U.S. electricity demand originating from coastal states, offshore wind is a crucial renewable resource to be incorporated in the country's clean energy mix. Designed to reduce the cost of offshore wind energy through the development and deployment of innovative technologies, the Department of Energy has selected three Offshore Wind Advanced Technology Demonstration Projects to receive continued funding in order to develop offshore wind systems ready for commercial operation in U.S. waters.
The program's advanced technology demonstration projects are partnerships with broad consortia that are developing breakthrough offshore wind energy generation projects. The demonstrations will help address key challenges associated with installing full-scale offshore wind turbines, connecting offshore turbines to the power grid, and navigating new permitting and approval processes.
In 2012, DOE selected seven Offshore Wind Advanced Technology Demonstration Projects to receive $4 million per project. The funding provided first-phase engineering, site evaluation, and planning for each project. In May 2014, the DOE Wind Program selected three of these projects to advance to the second phase of the demonstration, which includes follow-on design, fabrication, and a deployment target to achieve commercial operation on an accelerated timeframe. The following three projects are each eligible for up to $46.7 million in additional funding over four years, subject to congressional appropriations and annual progress reviews.
Dominion Virginia Power – Virginia Offshore Wind Technology Advancement Project (VOWTAP)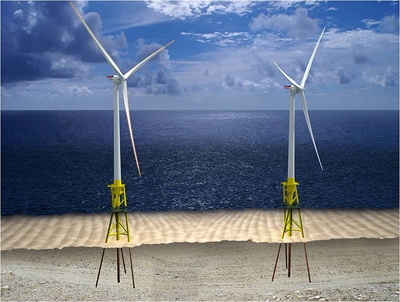 Dominion Virginia Power will install two 6-megawatt direct-drive Alstom wind turbines 26 miles off the coast of Virginia Beach, Virginia. Dominion's VOWTAP will help develop methods to install, operate, and maintain wind turbines for sites far from shore, such as the Wind Energy Areas established by the Bureau of Ocean Energy Management.
VOWTAP will use a domestically-produced twisted jacket foundation and incorporate hurricane-resilient design features to ensure that offshore wind facilities placed in hurricane-prone waters are reliable, safe, and cost effective. The project will also study the ability to mitigate wake effects using feed-forward control systems, which measure the incoming wind flow and adjust or angle the blades accordingly.
On December 1, 2014, the Bureau of Ocean Energy Management (BOEM) announced the publication of its Environmental Assessment of proposed wind energy-related research activities off the coast of Virginia. The public comments to the Environmental Assessment were published in January 2015. The research lease with Virginia's Department of Mines, Minerals and Energy (DMME) and BOEM was signed on March 24, 2015, and Dominion executed an operator agreement with DMME for VOWTAP. On March 26, 2016, BOEM approved a Research Activities Plan, which outlines the proposed construction, operation, maintenance, and eventual decommissioning of the project. Learn more about VOWTAP developments on BOEM's VOWTAP Web page. 
Fishermen's Energy Atlantic City Windfarm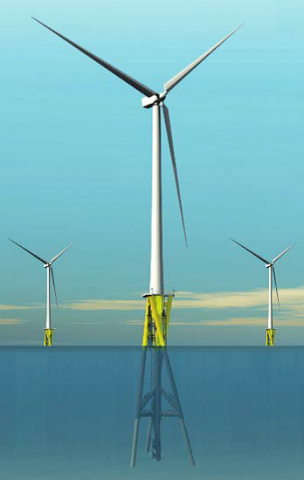 Fishermen's Energy of New Jersey will install six 4-megawatt Siemens turbines in state waters approximately three miles off the coast of Atlantic City, New Jersey. Fishermen's Energy Atlantic City Windfarm will demonstrate the use of a twisted jacket foundation that is easier to manufacture and install than traditional foundations, helping drive down the cost of energy produced by the offshore wind system.
In order to ensure the safety of the workers who will service the offshore turbines, Fishermen's has teamed up with foundation developer Keystone Engineering to demonstrate a new access ladder that is rotated 90 degrees, bringing the maintenance vessel closer to the turbine foundation while allowing the worker to side step onto the ladder.
Fishermen's project will act as an at-sea laboratory to further our knowledge about offshore wind, investigate the interactions between turbines, test new control systems, and provide information about potential environmental impacts of offshore wind while reducing the levelized cost of energy from offshore wind.
Principle Power WindFloat Pacific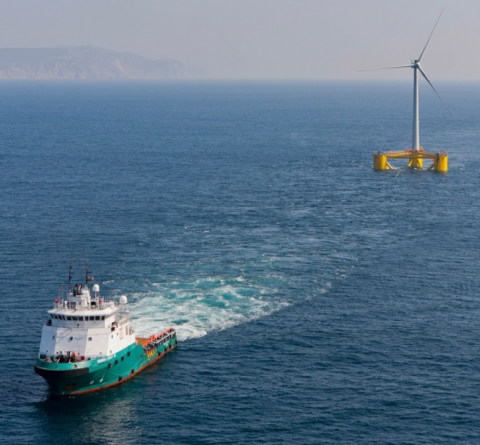 Principle Power will install a wind farm that will have a capacity of up to 25 megawatts approximately 18 miles off the coast of Coos Bay, Oregon, demonstrating the use of domestically-developed semi-submersible floating foundations. Principle Power's WindFloat system will be assembled on shore and towed out to sea, mitigating the need for the costly vessels typically used to assemble and install offshore wind systems at sea.
Planned for installation in a water depth of 1,150 feet, Principle Power's WindFloat system has the potential to harness the more than 60% of U.S. offshore wind resources that are found in deep water, and is the first offshore wind project planned on the West Coast. Learn more about WindFloat developments on the Bureau of Ocean Energy Management's WindFloat Pacific Web page. 
Phase One Projects
The proposals from the University of Maine and the Lake Erie Energy Development Corporation offered additional innovative approaches that, with additional engineering and design, will further enhance the portfolio of American offshore wind technology options. This includes concrete semi-submersible foundations as well as monopile foundations designed to reduce ice loading. The Department will continue to work with these teams to advance their designs to deployment readiness. The innovations being developed and demonstrated by the University of Maine and the Lake Erie Energy Development Corporation will further position the United States to lower the barriers to significant offshore wind, contributing to a low carbon future.
In the first phase of the offshore wind advanced technology demonstration, Baryonyx Corporation completed longitudinal wind resource assessments and avian surveys off the coast of Texas, and designed an advanced jacket foundation using lessons learned from the oil and gas sector. Statoil North America performed numerous environmental surveys in the Gulf of Maine, as well as design studies that advanced the state-of-the-art in specialized floating spar buoy substructures.
Broadly, the Energy Department's efforts to advance innovative offshore wind technologies support the Obama Administration's comprehensive National Offshore Wind Strategy to develop a sustainable, robust U.S. offshore wind industry. As part of that strategy, the Energy Department continues to work with partners across the government, including the Department of the Interior, to conduct resource assessments, streamline siting and permitting, and overcome technical and market challenges to installation, operations, and grid connection.