The U.S. Department of Energy (DOE) has allocated $58.6 million in fiscal year 2014 funds for the Water Power Program to research and develop marine and hydrokinetic (MHK) and hydropower technologies. Current activities supported by this budget include:
MHK Technology Systems and Components Research & Development (R&D): R&D to develop advanced MHK systems and component technologies to increase energy capture, reliability, and survivability for lower costs.
Hydropower R&D: Develop advanced hydropower technologies that drive down the cost of new hydropower project development, including standardized generating units with improved energy performance, high efficiency electrical components, and low environmental impact technologies.
Pumped-Storage Hydropower: Study and develop new, smaller, pumped-storage designs that will leverage manufacturing economies of scale and open new markets by avoiding many constraints associated with larger‐scale deployments.
Manufacturing R&D: Develop advanced manufacturing for making hydropower technologies lightweight and modular to reduce the cost of the construction, deployment, and maintenance.
Fiscal Year 2015 Budget Request
For fiscal year 2015, the Water Power Program's budget request is $62.5 million. Priority activity areas for the Water Power Program's fiscal year 2015 budget request include:
HydroNEXT: This new initiative aims to double the current contribution of hydropower in the United States. Activities will focus on technologies and tools to improve performance and sustainably increase generation at existing water resources infrastructure, in addition to the development and demonstration of technologies to lower the cost, improve the performance, and reduce the environmental impacts of hydropower for new stream‐reach development.
Modular Pumped‐Storage Hydropower: Building on the Modular Pumped Storage Feasibility Study conducted in FY 2014, the office will begin developing innovative m‐PSH system designs that exhibit cost‐competitiveness with existing large‐scale designs.
MHK Research and Design: To advance system designs of marine energy conversion devices, the office will continue to support field studies and applied MHK research; integrate innovative component technologies into advance system designs; and will demonstrate the viability of MHK systems.
Validate Open‐Source Advanced Design Tools: Compile, analyze, and disseminate performance data from device testing to enable the validation and improvement of numerical modeling tools. These datasets will be freely available to entrepreneurs and industry to allow for the simulation of device array designs and array impacts.
For more information, see the President's complete Fiscal Year 2015 budget request to Congress.
Budget History
In 2008, the Energy Department established the Water Power Program to support both MHK and hydropower technologies. Prior to establishment of the Water Power Program, the Energy Department funded hydropower activities to develop cost-competitive technologies and reduce environmental impacts of hydropower from 1977–2006.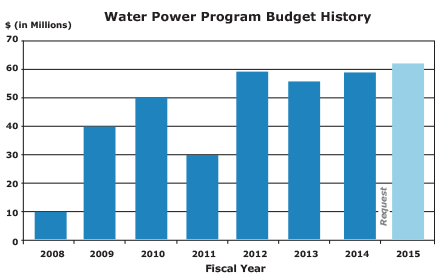 | Fiscal Year | Funding |
| --- | --- |
| 2008 | $10.0M |
| 2009 | $40.0M |
| 2010 | $50.0M |
| 2011 | $30.0M |
| 2012 | $59.0M |
| 2013 | $55.6M |
| 2014 | $58.6M |
| 2015 Request | $62.5M |