Advanced power electronics and electric motors (APEEM) that make up vehicles' electric drive system are essential to hybrid and plug-in electric vehicles. As such, improvements in these technologies can substantially reduce petroleum consumption in transportation, and help meet national economic, environmental, and energy security goals. Hybrid electric vehicles can reduce petroleum use compared to average conventional vehicles by as much as 50%, while plug-in electric vehicles extend these savings even further. For a general overview of electric drive vehicles, see the Alternative Fuels Data Center's pages on Hybrid and Plug-in Electric Vehicles. The Vehicle Technologies Office (VTO) supports research and development to reduce the cost and improve the performance of innovative electric drive devices, components, and systems.
The Vehicle Technologies Office's Contribution
VTO's long-term research and development strategy recognizes that reducing the cost of electric drive vehicles is essential for increasing consumer adoption. Because technology breakthroughs are necessary to achieve R&D goals, VTO funds research on advanced power electronics and electric motors to:
Reduce cost, weight, and volume
Improve performance, efficiency, and reliability
Develop innovative modular and scalable designs
Improve manufacturability and accelerate commercialization
These improvements will help DOE meet the EV Everywhere Grand Challenge goal of making the U.S. the first nation in the world to produce plug-in electric vehicles by 2022 that are as affordable for the average American family as today's gasoline-powered vehicles.
VTO funds research to advance electric drive technologies in two key areas: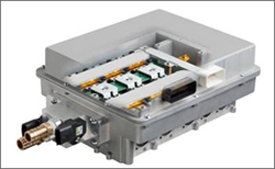 Within these areas, research efforts focus on:
Wide bandgap (WBG) devices for power electronics
Advanced motor designs to reduce or eliminate rare earth materials
Novel packaging for power electronics and electric motors
Improvements in thermal management and reliability
Integration of power electronics functions
In addition, VTO is also supporting research on propulsion materials to lower barriers to advanced power electronics and electric motors that face specific material limitations. More information on these research and development activities can be found in the Annual Merit Review and Annual Progress Reports. 
Partnerships
The Vehicle Technologies Office works extensively with a number of different organizations, including national laboratories and universities. Within the Department, the office collaborates with the Office of Science, ARPA-e (Advanced Research Projects Agency-Energy), and the Clean Energy Manufacturing Initiative. Across the federal government, the APEEM subprogram works with:
Much of the subprogram's research is conducted in sync with industry partners through:
Goals
As described in the EV Everywhere Blueprint, the major goals of the subprogram are to reduce the cost of electric drive systems by half and decrease their volume by one-third by 2022.
For more information on research into electric drive technologies, please contact Susan Rogers of the Hybrid Electric Systems Team.