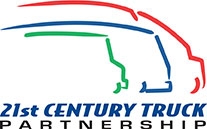 Medium-duty and heavy-duty trucks play a vital role in moving freight and passengers, serving as the backbone of America's economy. These trucks also play essential roles in other parts of society, such as maintaining our electricity infrastructure, collecting refuse, and improving the highway system. Improving the vehicle efficiency of freight transportation is vital to helping the country decrease its petroleum use as the economy grows.
Leading the way, the 21st Century Truck Partnership is addressing these important national challenges related to medium-duty and heavy-duty truck efficiency, safety, and emissions by pursuing collaborative research and development among government and industry partners. The 21st Century Truck Partnership's overall vision is for our nation's trucks and buses to safely and cost-effectively move larger volumes of freight and greater numbers of passengers while emitting little or no pollution and dramatically reducing the dependency on foreign oil.
The 21st Century Truck Partnership is addressing the technical needs of the medium- and heavy-duty truck industry, as well as major policy goals for government agencies, through three main activities:
Accelerate technology development through collaborative, pre-regulatory, and pre-competitive R&D projects (component and system-level), and provide access to research resources (expertise, laboratories, funding) for technology development.
Focus R&D efforts on topics of broad interest by providing a discussion forum and organizing consensus building tools such as roadmaps and position papers that help Partnership members come to agreement on R&D topics and goals. The Partnership provides opportunities for collaborative discussion on research needs, and reference materials to maximize the productivity of these discussions.
Information exchange and dissemination through regular conference calls, meetings, and information dissemination tools. These resources help Partners access current information about industry and government activities and opportunities.
The Partnership has developed specific technical goals as well as the Roadmap and Technical White Papers, which provide an overview of the partnership's activities including structure, roles and responsibilities, technology background, technical goals and objectives, and interim milestones and timing. 
21st Century Truck Partners
Industry Partners: Allison Transmission Inc.; BAE Systems plc; Caterpillar Inc.; Cummins Inc.; Daimler Trucks North America LLC; Detroit Diesel Corporation; Eaton; Honeywell International; Mack Trucks; Meritor, Inc.; Navistar, Inc.; Nova Bus Inc.; Oshkosh Corporation; PACCAR Inc.; Volvo Trucks North America.
Federal Government Partners:  U.S. Department of Energy (DOE); U.S. Department of Defense (DOD); U.S. Department of Transportation (DOT); U.S. Environmental Protection Agency (EPA)
Participating National Laboratories: Argonne National Laboratory, Brookhaven National Laboratory, Idaho National Laboratory, Lawrence Berkeley National Laboratory, Lawrence Livermore National Laboratory, Los Alamos National Laboratory, NASA Ames Research Center, National Institute of Standards and Technology, National Renewable Energy Laboratory, Oak Ridge National Laboratory, Pacific Northwest National Laboratory, Sandia National Laboratory.
Technical Focus Areas
Engine Systems (engine, fuel, and emissions equipment)
Drivetrain (Transmissions, drive axles, electric or hydraulic hybrid drive systems and energy storage)
Power Demands (aerodynamic drag, tire rolling resistance, drivetrain losses, auxiliary loads)
Idle Reduction (reduce overnight and work-day idling)
Safety (crash avoidance, intelligent transportation systems)
Operational Efficiency (vehicle duty cycle, application, driver impacts)