Why Electric Vehicle Charging at Work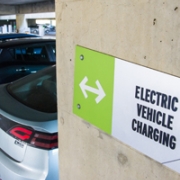 Many PEV drivers charge their vehicles primarily at home, but accessing chargers at work can help owners double their vehicles' all-electric daily commuting range. To increase the amount of workplace charging available, the U.S. Department of Energy (DOE) supports the Workplace Charging Challenge to encourage employers to commit to providing charging access for employees.
Learn more about the benefits of the Workplace Charging Challenge and join the challenge.
Getting Started with Workplace Charging
Learn about PEV workplace charging, and find resources about installing and managing workplace charging stations.
Promote Your Charging Station