The SunShot Initiative's Technology to Market subprogram builds on SunShot's record of enabling groundbreaking devices and concepts in earlier stage programs with follow-on funding. Technology to Market targets two known funding gaps in bringing new technologies to market: those that occur at the prototype commercialization stage, as well as those at the commercial scale-up stage.
All Technology to Market programs are tightly structured to ensure that recipients commercialize the funded technology and achieve technical milestones. SunShot also creates venues for helping the recipients to find follow-on funding and to form strategic partnerships.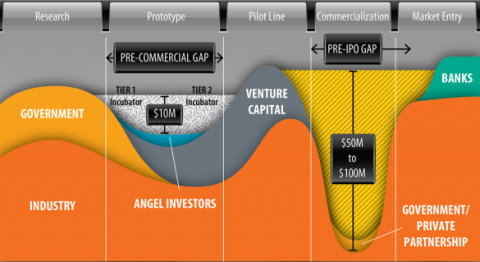 Commercialization and scale-up funding gaps addressed by SunShot's Technology to Market Program.
In addition to funding commercialization-stage activities and beyond, Technology to Market tends to the internal compass of the SunShot Initiative by supporting market and cost analysis. This analysis informs SunShot's strategic direction and reveals the market barriers that can be addressed through solicitations. On an ongoing basis, SunShot closely scrutinizes the progress of its projects and programs and evaluates internal decision-making with reference to bottom-up cost analyses. These analyses, crucial to a rapidly-evolving industry, address conversion technologies and systems as well as supply chain- and location-specific competitive advantages.
Dramatic reductions in the cost of solar will enable the high penetration deployment of solar energy technologies. It is essential then, but insufficient, to discover new materials, build first-of-a-kind devices, or identify that we must simplify PV interconnection backlogs: to have real impact, these solutions must be transitioned to the marketplace so job creation and economic development benefits can be realized.
SunShot's Technology to Market funding programs fall into three focus areas:
You can also find a complete list of Technology to Market funding programs here or download more information in the 2014 SunShot Initiative Portfolio Book.