The SunShot Incubator Virtual Showcase took place on March 4, 2015, featuring one-minute presentations from current Incubator awardees. Read the transcript and download the slides.
The Incubator program provides early-stage assistance to help startup companies cross technological barriers to commercialization while encouraging private sector investment. Since the program was launched in 2007, $138 million in government funds has leveraged more than $3 billion in venture capital and private equity investment, demonstrating a ratio of nearly $22 in subsequent private sector support for every $1 of federal support.
A total of 97 startup companies have received 121 awards to participate in the SunShot Incubator program since it began in 2007. These DOE solar projects are accelerating technological innovation for:
Photovoltaic (PV) technologies
Concentrating solar power (CSP) technologies
Power electronics
Balance-of-system (BOS) hardware
Balance-of-system non-hardware (Soft Costs).
On November 16, 2015, the Incubator program was combined with other funding programs into the SunShot Technology to Market funding program with the goal of bringing disruptive innovation to the solar industry in the near term that will take root in the U.S.
Objectives
The SunShot Incubator program aims to shorten the time between laboratory-scale proof of concept and prototype development and accelerate the process for companies to transition pre-commercial prototypes through the pilot stage into full-scale manufacture. Most projects are cooperative agreements that last from 12 to 18 months with payment made upon completion and verification of aggressive project deliverables.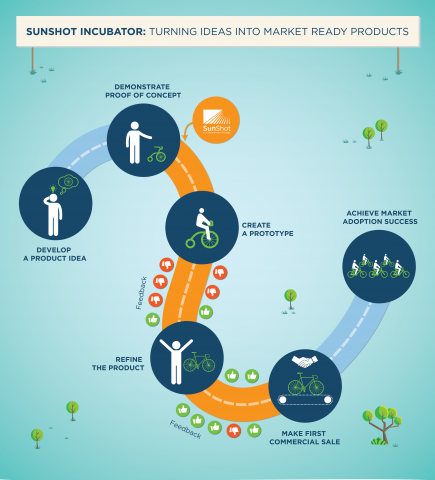 Approach
The SunShot Incubator program uses a five-tiered approach to accomplish its objectives.
For Hardware Development
Tier 0 is to accelerate the transition from a proof-of-concept of all critical components to an early stage functional prototype;
Tier 1 is to accelerate the transition of early stage functional prototype to manufacturing and commercially relevant prototype made in the lab; and
Tier 2 is to develop the manufacturing processes and equipment to move from fully developed lab prototype to pilot-scale production.
For Non Hardware Development
Tier 1S is to accelerate the transition of proof-of-concept or business plan to alpha capability and early customer trials; and
Tier 2S is to transition alpha capability through beta launch and full commercialization.
The Incubator program was originally created to support innovative solar startups working to develop and launch transformative PV technologies. Over the past several years, the program has evolved to take an all-inclusive approach to significantly lower the total installed cost of solar energy systems. Visit the Financial Opportunities page for more information about future funding rounds.
Awardees
 

Soft Costs

Aurora Solar, Inc.
Clean Energy Collective
Demeter Power Group
EnergySage
Faraday
Genability
kWh Analytics
Mosaic
Sighten
SolarNexus
Sungage Financial
Sunlayar, Inc.
Sunrun
Sunvestment Group
Village Power Finance

 

Photovoltaics

Intrinsiq Materials, Inc.
Picasolar

 

Systems Integration

Infinite Invention
Qado Energy
Renewable Power Conversion
SafeConnect Solar
SineWatts
Stem
SunEdison (Formerly Solar Grid Storage)
SunPower, Inc.

 

Concentrating Solar Power

Norwich Technologies
Solaflect Energy
Sundog Solar Technoloy

 

Soft Costs

Clean Energy Experts
Clean Power Finance (2012 - Tier 1)
Clean Power Finance (2012 - Tier 2)
Clean Power Resesarch
concept3D
EnergySage
Folsom Labs
Genability
Geostellar
kWh Analytics (2013)
Simply Civic
Solar Census
Sun Number
Tigo Energy

 

Photovoltaics

1366 Technologies (2009)
1366 Technologies (2008)
Abound Solar
Alta Devices
AmberWave
Applied Novel Devices
Ascent Solar Technologies
Bandgap Engineering
Banyan Energy
Blue Square Energy
Caelux
CaliSolar
Cellink
Crystal Solar (2010)
Crystal Solar (2009)
Enfocus Engineering
Enki Technology
EPIR Technologies
Innovalight
Lightwave Power
Luna Innovations
MicroLink Devices (2009)
MicroLink Devices (2007)
Picasolar
Plextronics
PrimeStar Solar
REhnu
Semprius
Sinewatts
Skyline Solar
Solar Junction
Solaria
Solasta
Solexant
Solexel
SolFocus
SoloPower
SpectraWatt
Spire Semiconductor
Stion
Tetra Sun
TiSol
Vanguard Solar

 

Systems Integration

Brittmore Group
Infinite Invention
Princeton Power Systems
Qado Energy
Qbotix
Renewable Power Conversion
Seeo
SMASHsolar
Tigo Energy

 

Concentrating Solar Power

Halotechnics
Solaflect Energy
Learn more about SunShot's other technology to market funding programs.