SunShot Catalyst is an open innovation program that aims to catalyze the rapid creation and development of products and solutions that address near-term challenges in the U.S. solar marketplace. Through a series of prize challenges, SunShot Catalyst makes it faster and easier for American innovators to launch cutting-edge solar companies, while tackling time-sensitive market challenges.
Since its inception, SunShot has helped hundreds of innovators bring mature solar solutions to the marketplace. Catalyst's prize challenge framework introduces the business community to the vast array of tools, capabilities, data assets and additional resources developed by Energy Department and the national laboratories. Catalyst's open, fast-paced innovation cycle allows crowd-sourced engagement and frequent partnerships with the nation's growing networks of technology mentors, incubators, and accelerators.
The Catalyst Process
The Catalyst program consists of four steps with value awarded to all winning contestants totaling $1,000,000, including about $500,000 in cash prizes. See the timeline for the second round of the competition below. 
| | | | | |
| --- | --- | --- | --- | --- |
|   |   | Winners | Awards | Timeline |
| Step 1 | Ideation | Up to 5 | $1,000 cash per winner | May 14 – June 30, 2015 at 11:59pm ET |
| Step 2 | Business Innovation | Up to 20 | $25,000 in services per winner | June 16 – August 14, 2015 at 11:59pm ET |
| Step 3 | Prototype | Up to 20 finalists | All finalists advance to Incubation | September 11 – November 30, 2015 at 11:59pm ET |
| Step 4      | Incubation | Up to 5 | Up to $100,000 prize package per winner | First cash prizes announced December 14–18, 2015 |
Step 1: Ideation
The ideation contest focuses on generating and aggregating pressing U.S. solar market needs and problem statements that can be solved through automation, algorithms, data, and software, especially by leveraging available data assets, tools, capabilities, and resources. Anyone can participate by submitting problem statements online or by voting on problem statements submissions from others. A contestant with a problem statement may win $1,000 in cash prizes when a team, who adopted this problem statement in their business solution, has been selected among top five winners by a panel of judges in accordance with the rules of the incubation contest.
Step 2: Business Innovation
The business innovation contest is designed to help teams form and explore business solutions to the most compelling problems identified during ideation. Anyone can participate by submitting a business plan package online, including a five-minute video describing the proposed business plan. Up to 20 winners will be given the opportunity to move forward in the Catalyst process and work directly with a crowd-centric performance-based software development platform to develop the product proposed in their business plan and to create minimum viable products (MVPs).
Step 3: Prototype
The prototype phase is designed to help business plan contest winners rapidly develop MVPs using a crowd-centric performance-based software development platform. During the contest, teams will be provided with $25,000 worth of support from a DOE-provided software developer over a 60-day period. Each team will formulate their requirements and scope of work for one MPV, working closely with the software developer.  
Step 4: Incubation
The Incubation contest is designed to help teams with MVPs start their businesses and accelerate offering new products and services in the solar marketplace. To win cash awards, teams will participate in a DOE-hosted Demo Day to showcase their MVPs, market entry execution strategy, and six-month growth plan. During Demo Day, teams will be evaluated by judges according to pre-established criteria. The top five winning teams will receive up to $100,000 in cash prizes.
SunShot Catalyst Jamathons
The Department of Energy SunShot Catalyst program is looking to award entrepreneurs with over $ 1.5M in total prizes. The Catalyst team will host a series Jamathons in Chicago, Boston, San Francisco and Pitsburgh to guide teams as they craft their startup pitch that can be submitted to the Catalyst Business Innovation Contest. Sign up for an event near you. 
SunShot Catalyst Demo Day
SunShot hosted a Demo Day on December 10, 2015 in Philadelphia where teams from around the country pitched innovative solar energy-focused software products to a panel of investors, entrepreneurs, and energy policy experts. Judges awarded approximately $700,000 in cash prizes to 7 of the 19 competing teams. Read more about the winners and their innovations. 
Demo Day on May 14, 2015 in San Francisco culminated the first round of the Catalyst competition, where 17 companies competed for $500,000 in cash prizes. After all the finalists demonstrated their innovations, the panel of judges selected five winners: Gridmates, PVComplete, Savenia Solar Ratings, Solar Site Design, and UtilityAPI. Each team won $30,000. Read more about the winners and their innovations and watch them pitch the panel of judges.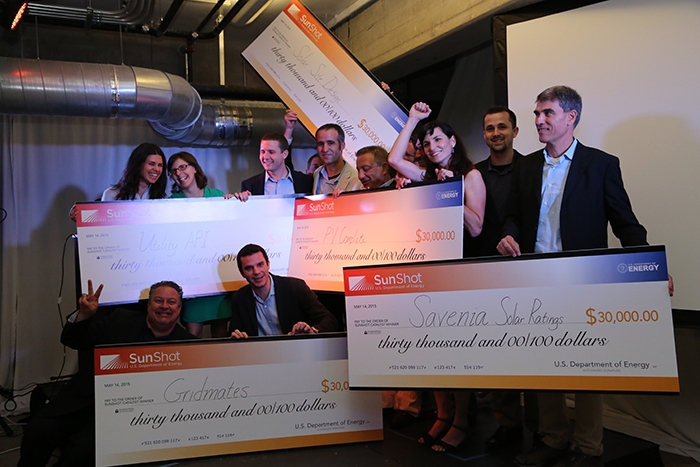 Apply Today
Contact Us