The Solar Instructor Training Network promotes high-quality training in the installation of solar technologies.
The U.S. Department of Energy SunShot Initiative created the Solar Instructor Training Network in 2009 to address the critical need for high-quality, local, accessible training in solar energy system design, installation, sales, and inspection. One national administrator and nine regional resource and training providers support the professional development of trainers and instructors of solar photovoltaic (PV) and solar heating and cooling technologies across the country.
Background
In partnership with the U.S. Departments of Labor and Education, the Solar Instructor Training Network addresses three critical gaps in solar workforce development: the need to increase the number of qualified PV instructors at the community college level; the development of solar training for building and electrical inspectors; and the creation of a comprehensive system linking training and credentialing for the solar workforce across residential, commercial, and utility-scale PV installation activities. In addition to these key functions, the Solar Instructor Training Network also supports the accreditation of solar trainers and training programs, the certification of installers and installation instructors, the distribution of best practices, and PV training equipment for solar training programs.
As part of the Solar Instructor Training Network, the Solar Ready Vets program connects our nation's skilled veterans to the solar energy industry, preparing them for careers as solar PV system installers, sales representatives, system inspectors, and other solar-related occupations. Solar Ready Vets is enabled by the U.S. Department of Defense's SkillBridge initiative, which allows exiting military personnel to pursue civilian job training, employment skills training, apprenticeships, and internships up to six months prior to their separation. 
Over the past six years, SunShot's Solar Instructor Training Network has developed a robust geographic blanket of training opportunities in solar installation across the United States. In 2006, there were an estimated 57 qualified PV instructors at community colleges throughout the United States. Since its creation, the Solar Instructor Training Network program has provided instructor training to more than 1,000 qualified and credentialed PV instructors, while partnering with more than 400 community colleges, labor training centers, and technical high schools. As a result of these efforts, more than 30,000 students throughout the United States have been trained for careers in solar energy, with a goal to train 50,000 students by 2020.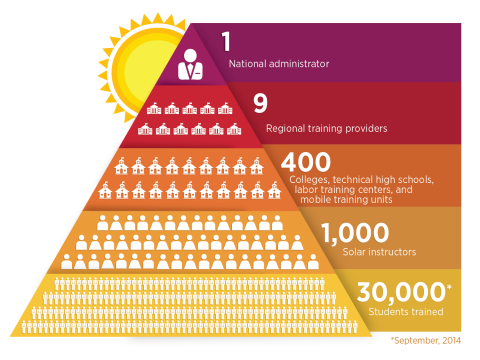 National Administrator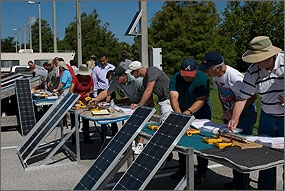 The Interstate Renewable Energy Council (IREC) became the National Administrator of the Solar Instructor Training Network on August 25, 2010. IREC was selected for this role after a competitive solicitation process, and Joe Sarubbi is the National Administrator project manager for IREC.
IREC serves as the national point of contact for the network, conducting outreach to disseminate its products and best practices. IREC is developing a robust national infrastructure which can meet the employment needs of a rapidly growing domestic solar industry. The group manages the network's collaboration, coordinates joint activities, and works with a broad set of stakeholders to prioritize and address issues related to solar training.
IREC is a non-profit organization that works to remove barriers to renewable energy. Throughout its 28-year history, the organization has been instrumental in progressive rulemaking for connecting distributed power to the utility grid, workforce development, consumer protection, and stakeholder coordination. IREC assesses instructional quality by credentialing programs and was the lead in forming the North America Board of Certified Energy Practitioners.
Regional Training Provider Network
The Energy Department has invested $27 million, including $10 million in American Recovery and Reinvestment Act funds, to the network of regional training providers participating in the Solar Instructor Training Network. The regional resource and training providers are well-established solar training institutions offering expert instruction and top training facilities. In order to deliver the most appropriate training possible, the regional resource and training providers collaborate on a regular basis with each other, educators, solar industry representatives, workforce investment boards, and state and federal agencies. The regional resource and training providers offer resources to select educational institutions in their regions, including train-the-trainer workshops, training equipment, and tools for instructors.
The regional resource and training providers offer multiple resources to select educational institutions in their regions. Resources include live train-the-trainer workshops and webinars, and in many cases, training equipment and tools for instructors. As a network, the regional providers collaborate to develop curricula, identify career pathways, share labor market data, and resolve issues related to solar training and workforce development. These providers are using innovative approaches to training, including distance learning courses and mobile laboratory training modules. Regional resource and training providers sponsor instructor training in PV and/or solar heating and cooling technologies, and in some cases, assist in equipping the laboratories and facilities of local training providers.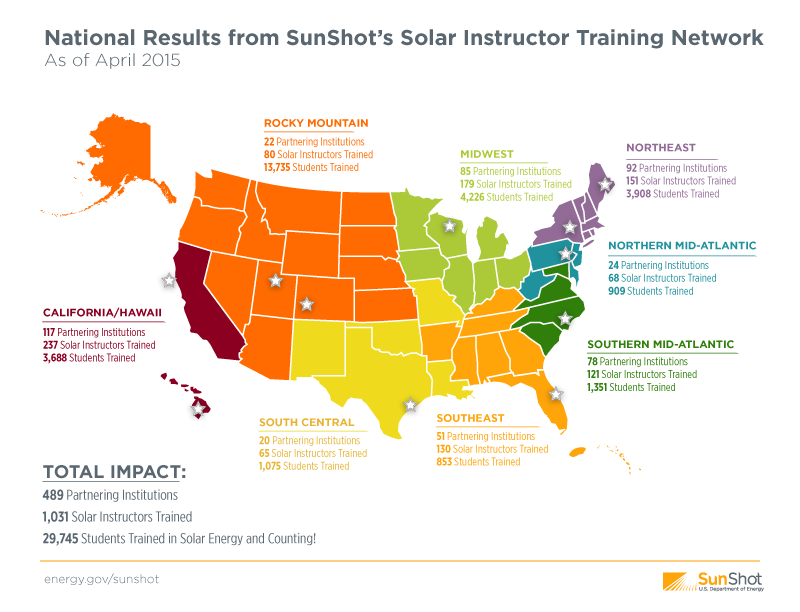 Contact the Solar Instructor Training Network
NATIONAL ADMINISTRATOR
Interstate Renewable Energy Council
Visit SITN online at SITNUSA.org
Joe Sarubbi, joesarubbi@irecusa.org, 518-221-5249
NORTHEAST
Maine, Vermont, New Hampshire, New York, Rhode Island, Connecticut, Massachusetts
Kennebec Valley Community College (PV)
Amy Hudnor, ahudnor@kvcc.me.edu, 207-453-5813
Hudson Valley Community College (PV)
Penny Hill, p.hill@hvcc.edu, 518-629-4983
NORTHERN MID-ATLANTIC STATES
Pennsylvania, New Jersey, West Virginia, Delaware
Northern Mid-Atlantic Solar Education and Resource Center at Pennsylvania State University
David Riley, driley@engr.psu.edu, 814-863-2079
SOUTHERN MID-ATLANTIC STATES
North Carolina, South Carolina, Maryland, District of Columbia, Virginia
North Carolina Clean Technology Center, North Carolina State University
Henry Tsai, chtsai@ncsu.edu, 919-515-5433
SOUTHEAST
Florida, Georgia, Alabama, Tennessee, Kentucky, Mississippi, Arkansas; Guam, Puerto Rico, U.S. Virgin Islands
Florida Solar Energy Center at University of Central Florida
David Block, block@fsec.ucf.edu, 321-638-1506
MIDWEST
Wisconsin, Minnesota, Michigan, Iowa, Illinois, Indiana, Ohio
Midwest Renewable Energy Association
Nick Hylla, nickh@midwestrenew.org, 715-592-6595 x107 
SOUTH CENTRAL PARTNERSHIP
Texas, Louisiana, Oklahoma, Missouri, New Mexico
Energy Institute at Houston Community College, Ontility
Tammu Obey-Monroe, tammu.obey1@hccs.edu, 713-718-2680
ROCKY MOUNTAIN PARTNERSHIP
Utah, Colorado, Arizona, Nevada, Washington, Oregon, Idaho,  North Dakota, South Dakota, Montana, Nebraska, Kansas, Alaska
Salt Lake Community College, Solar Energy International, and the Utah Solar Energy Association
Judy Fisher, judy.fisher@slcc.edu, 801-957-5252
CALIFORNIA AND HAWAII PARTNERSHIP
California, Hawaii
California Community College Chancellors Office and the University of Hawaii System
Gerald Bernstein, GBernste@ccsf.edu, 415-550-4437
MEDIA INQUIRIES
For media inquiries, please email the Energy Department's Office of Public Affairs at DOENews@hq.doe.gov and be sure to reference "SunShot Initiative" in the email subject line.
To receive the latest news about the military training program, including any announcements about future training locations, please sign up for the Energy Department's media list here.