With more than 350,000 buildings and 600,000 road vehicles, the federal government is our nation's largest energy consumer. Federal agencies have a tremendous opportunity and obligation to reduce energy, water, and petroleum use, as well as greenhouse gas emissions in their operations. The Federal Energy Management Program (FEMP) provides agencies with the information, tools, and assistance they need to meet and track their energy-related requirements and goals.
WHAT WE DO
FEMP works with key individuals to accomplish energy change within organizations by bringing expertise from all levels of project and policy implementation to enable federal agencies to meet energy-related goals and to provide energy leadership to the country. The Federal Energy Management Program accomplishes this through:
WHAT WE'VE ACCOMPLISHED
During fiscal year (FY) 2013, federal agencies reported 0.96 quadrillion British thermal units (Btu) or "quads" of delivered energy across the three energy sectors:
Buildings that are subject to statutory energy-reduction requirements
Buildings that are excluded from the energy-reduction requirements
Vehicles and equipment.
These 0.96 quads represent 1.6% of the 59.2 quads of delivered energy used in the United States. Jet fuel is the principle source of energy used by the federal government, comprising 44.2% of all energy consumed (0.42 quads consumed). Electricity and natural gas are also significant energy sources, consisting of 19.3% and 12.8% respectively (0.18 and 0.12 quads).
Historical Energy Intensity
Historical Facility Energy Intensity, FY 1975 to FY 2013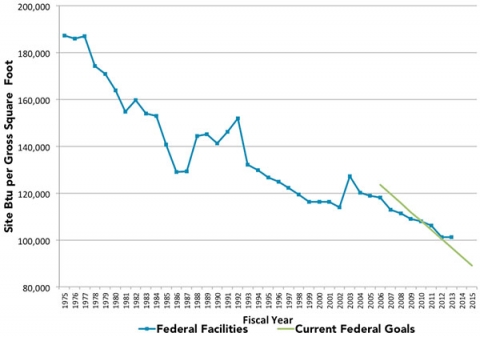 Since 1975, the federal government has decreased the energy intensity of its buildings by 46%—from 187,244 Btu per square foot to 101,145 Btu per square foot in FY 2013.
Energy Reduction
Facility Energy Intensity Reduction, FY 2003 to FY 2013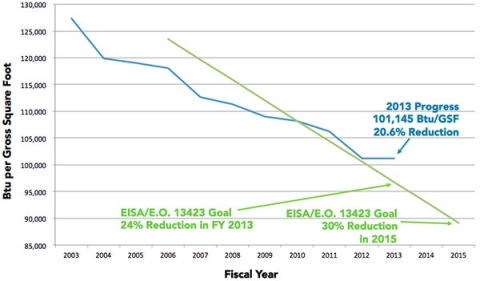 In FY 2013, federal agencies reported that buildings subject to the National Energy Conservation Policy Act energy intensity reduction goals collectively decreased energy use per gross square foot (Btu/GSF) by 20.6% relative to FY 2003. This falls short of the 24% reduction requirement for FY 2013. Although the rate of reduction in energy intensity slowed in FY 2013, federal agencies achieved the FY 2013 reductions despite less favorable climatic conditions with heating degree days increasing by 16% between FY 2012 and FY 2013.
Renewable Energy Use
Renewable Energy Use, FY 2008 to FY 2013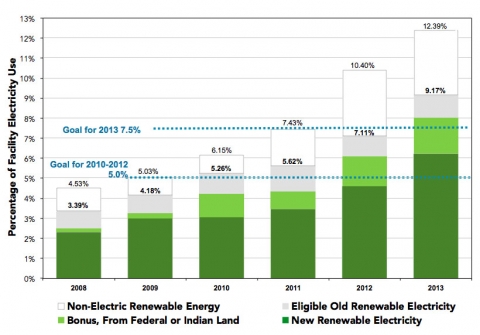 The federal government purchased or produced renewable electric energy equivalent to 9.2% of total electricity use in FY 2013. This exceeds the Energy Policy Act of 2005 and Executive Order (E.O.) 13423 (42 U.S.C. § 15852(a)) FY 2013 requirement of using renewable electric energy or the equivalent for at least 7.5% of total electricity use.
Water Use Reduction
Facility Water Use Reduction, FY 2007 to FY 2013


The federal government reduced water use intensity by 19.1% in FY 2013 relative to FY 2007. This exceeds the E.O. 13423 and E.O. 13514 requirement of reducing water consumption intensity (gal/GSF) by 12% relative to the 2007 baseline, 16% by the end of FY 2015, and 26% by FY 2020.
Greenhouse Gas Reduction
Scope 1 and 2 Greenhouse Gas Emissions, FY 2008 to FY 2013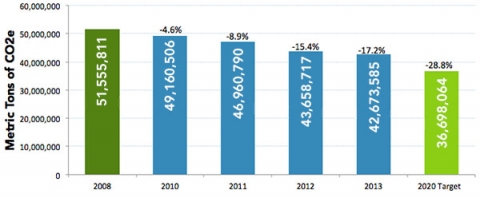 The federal government reduced scope 1 and 2 greenhouse gas (GHG) emissions by 17.2% in FY 2013 relative to FY 2008. This is on track for meeting the E.O. 13514 requirement to reduce government‐wide scope 1 and 2 GHGs from targeted sources by 28% in FY 2020 compared to FY 2008.